Vingt Sept
Beauty Christmas Gift Guide 2021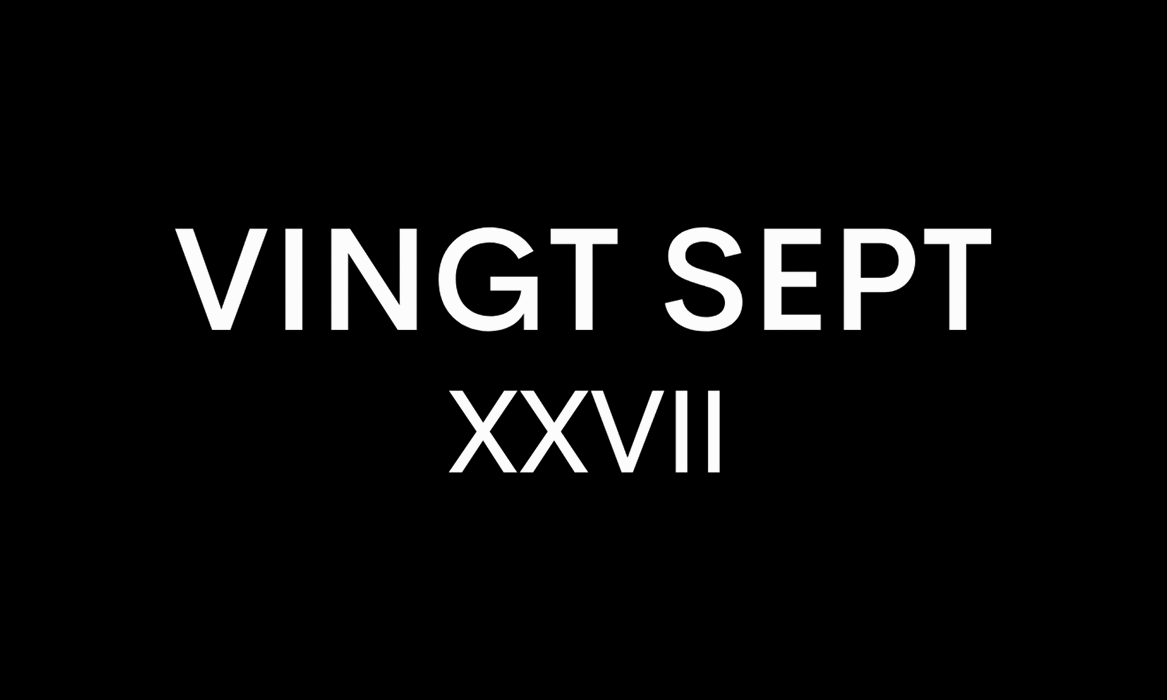 Christmas Gift Guide 2021
Yes, we can't even believe the year is almost out, and it's officially Christmas! Cue masses of shoppers, sold out in-store wishlists and just the stress of navigating through the festive period. Don't worry, though; we totally have your back this year. To take the stress away, our editors have been hard at work, carefully selecting and testing the most unique gifts, a future investment for your loved one's beauty cupboard that is sure to put a smile on their face.
Chantecaille returns with their hyperpigmented sets for the holiday season, packed with colour to add some glamour to your cheeks and create that makeup artist ready look.
The team scoured through many products for at-home salon solutions, and we're happy to announce a more effortless way to achieve fuller lashes with Decortés offering.
This guide is designed to remove your stress during the festive season, and as always, supports your conscious buying needs. These are our editor-approved products for your beauty obsessions this Christmas.
Chantecaille Philanthropy Cheek Shades (Joy or Bliss) £35 available at Chantecaille - the brand giving back
Philanthropy Cheek shades form part of Chantecaille's philanthropy range, where each purchase supports a specific sanctuary or charity to protect endangered species. Choose Bliss or Joy, both highly pigmented and a portion of the proceeds are used to continue their mission of philanthropy whilst you look fantastic at the same time.
Gucci Poudre de Beauté Mat Naturel £46 available at Gucci - for a catwalk finish
Fashion and beauty giants Gucci offer a seamless powder with a matte finish. When applied after foundation, you can achieve catwalk ready results that last for 24 hours. Did we also say how gorgeous the packaging is!
Dolce & Gabbana Solar Glow Illuminating Powder Duo (shade 4 Bronze Feeling) £55 available at Dolce & Gabbana - best for an all year glow
Arriving in ultra-luxe packaging, this powder duo is sure to make anyone smile. Dolce & Gabbana can do no wrong with this year's offering; inspired by the Mediterranean light, their compact illuminates your cheekbones and enhances your natural glow anywhere you go.
Nine Yards Sweden GOLOUD Shampoo and BIGNOISE Conditioner £20 each available at Nine Yards
Swedish brand Nine Yards centres on creating products for 'free thinkers'. Their shampoo is light yet practical and arrives in a minimalistic glacier-like 3D packaging.
GOLOUD and BIGNOISE instantly create volume, bringing limp hair to life, perfect for those needing a little help. Both contain natural herbal and botanical extracts to thicken fine hair delicately and are free from parabens, sulphates and MIT.
Sisley Paris Phyto-Cernes Éclat Eye Concealer £75 available at Sisley Paris - voted the best concealer at HQ
An eye concealer with botanical extracts, Sisley's formula provides coverage for dark circles and reduces puffiness, and evens out the skin tone around the eyes. Each set comes with a brush applicator, perfect for the day after Christmas festivities.
KVD Vegan Beauty Good Apple Foundation £24.65 available at Boots - best vegan beauty buy
KVD is back with their Good Apple foundation. Containing sodium hyaluronate, this hydrating formula not only provides full coverage but also reduces the appearance of wrinkles and creases at the same time.
Nudestix (Nudeskin) lemon-aid detox & glow micro-peel £32 available at Selfridges - from contour to skincare
Nudestix is celebrated at HQ for its contour sets, so we were eager to try their skincare line. Their skin clarifying formula is the best gentle chemical peel we've attempted this year. Use 1-3 times a week to detoxify pores and reveal glowing skin.
Perricone MD No Makeup Blush £29 available at John Lewis - to achieve the makeup artist's ultimate trick
On shoots, you will hear the phrase 'no makeup look'. This is the most challenging beauty look to achieve and a pain for professionals. However, Perricone has launched their blush line, and we are just in love! Finally, a product that actually does what it says on the tin. Perfect for achieving the natural makeup look, No Makeup Blush gives a beautiful flush of colour with even the smallest application.
Freshly Cosmetics Ready Steady Set £39 available at Freshly Cosmetics - For those on the go
Winter skin is really the worst, the summer glow is gone, and we need to pack in more products to our beloved skincare regime. For those who enjoy versatility in their beauty products, Freshly's set is sure to make your heart jump. Their Ready Steady duo contains a primer and highlighter. Both are packed with hydrating formulas to brighten and even skin tone whilst providing that natural makeup glow.
Maria Nila HEAL Shampoo and Conditioner £25 each available at Maria Nila
This sweet and aromatic hair set is excellent for someone seeking TLC from overprocessed hair. The soothing shampoo and conditioner are suitable for all hair types with a unique formulation to target and soothe sore/itchy scalp, treat dandruff and repair damage. Both are free of sulphates, allergens, 100% vegan and cruelty-free.
Decorté Luxscara Volume Mascara £32 available at Decorté - for fuller lashes without the hassle
Last year we fell in love with Decorté's AQ Lash mascara, so this year we were eager to try the new Luxscara. Arriving in the brand's classic chic packaging, we were impressed with how little product is needed to create a look with fuller, longer lashes. This may be down to Decorté's lash fibre technology which is the gift that keeps on giving.
Laura Mercier Secret Camouflage concealer £30 available at Liberty - New BFF for full coverage
Don't you hate it around Christmas where every skincare concern rears its ugly head? One of the biggest complaints about full coverage makeup is the 'cakey' look one can get; however, Laura Mercier's Secret Camouflage concealer is our new best friend. This versatile concealer duo blends effortlessly and covers even the darkest of circles and blemishes. Matching undertones and skin colour, the highly-pigmented concealer provides full coverage with a natural finish.
Charlotte Tilbury Hollywood Makeup gift set £150 available at Charlotte Tilbury
Charlotte Tilbury can do no wrong when it comes to their range of makeup, so our jaws fell to the floor when we heard of the new Hollywood gift set. This limited edition launch is an excellent gift for a special person who deserves to look like a star. Key items loved by our editors are the award-winning Wonder Glow primer, the Hollywood Flawless Eye Filter eyeshadow palette (with four iconic shades) and the Collagen Lip Bath for a full kissable pout - perfect for that oh so handy mistletoe.
Dior Backstage Eye Palette £39 available at Dior
The Dior Backstage line is the gift that keeps on giving, perfect for those who love to recreate dramatic catwalk beauty looks. To celebrate the upcoming new year, Dior released two new stunning palettes. Each is hyper-pigmented to create an intense look.
Each palette contains nine stunning hyperpigmented shades that are sure to turn heads. We recommend shade Bronze Neutrals for a dazzling festive look over the Christmas period and for 2022.
English Mineral Makeup Christmas gift box £76 available at English Mineral Makeup
Mother and daughter duo Jeanette and Grace Burrows are the brains behind sustainable natural makeup brand English Mineral Makeup. The women want to bring sustainable and ethical makeup to everyone, but more importantly, cosmetics that work with all skin types no matter what age you are.
Expect to find four of the brand's bestsellers in this Christmas gift set. These include a vegan mascara created for the most sensitive eyes, a matte bronzer suitable for all skin (that doubles as a setting powder), a hydrating lip moisturiser and their award-winning Buffing Kabuki blending brush.
Crazy Angel Tan range between £10-£23 available at Crazy Angel
Are we feeling sad about losing that Mykonos tan? Well, for the tan fanatic in your circle, Crazy Tan have a line that is pretty much up everyone's street. The brand's tan range is suitable for all skin types and is so vast there is literally something for everyone. Some of the cute items perfect for gifting is the brand's Blending Brush, Self Tan Water and buttery Barrier Cream.
BBB London Brow Pamper Set £39 available at BBB London
Get brows to die for with BBB London's pamper set, perfect for your brow obsessed recipient. Each set comes in the most adorable box containing a hi-shine brow gloss that doubles as a strengthener, nourishing brow oil for those wanting to achieve some Cara Delevigne results and precision grooming scissors.