Vingt Sept
First Look: Dr Sturm's Stylish London Clinic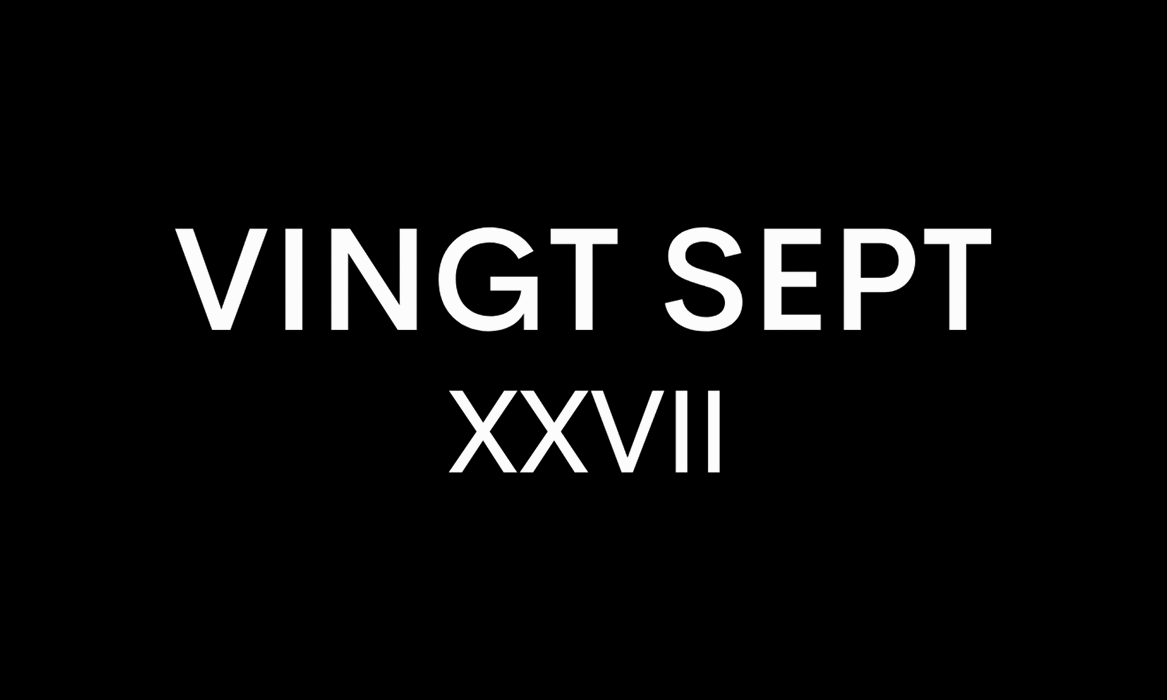 Beauty
Known for her pioneering treatments within the beauty industry, including the innovative and groundbreaking 'vampire facial', Dr Sturm continues her ability to bring successful skincare solutions to consumers fingertips, and now (this year) has opened the doors to her London spa.
Dr Barbara Sturm's background in aesthetics concentrates on non-invasive skincare solutions/treatments following a career that initially began in orthopaedics. With interest and focus on treatments to help inflammatory conditions and a fascination with protein production (key to improving elasticity, hydration, and overall skin health), the brand is understandably popular amongst beauty editors and Hollywood stars.
Following years of clinical research surrounded by leading experts within her team, Dr Sturm opened her own aesthetics clinic in Dusseldorf, creating world-class formulas that are continued to the present day.
The science behind Dr Sturm products is world-class, with innovation at the forefront, ensuring that every item within the range is not harmful to the skin or environment. All products are directed at the individual's skincare concerns, be that fine lines, wrinkles or hyperpigmentation and rosacea. It is clear to understand why her MC1 cream is well favoured by high profile clients, including Victoria Beckham, Emma Stone and Elsa Hosk, who swear by her products and travel the world just to see Dr Sturm.
The London clinic opened in April 2021 in Mayfair, following locations in LA, Miami, New York and Dusseldorf. The new clinic is designed by her architect brother Tobias Freytag and is clean, minimalist, yet futuristic. Each space is carefully devised to draw in key natural light with snowy seating and NASA-esque features such as reflective walls surrounded by soft strobe lighting and the distinct yet clever curvature of the ceilings.
The exterior of the new Dr Sturm Mayfair, London clinic
Stressors of the pandemic and the overuse of face masks have resulted in a rise in skincare concerns. In the UK, NHS data reported over 80% of people aged 11-30 are affected by skin conditions. Dermatologists say this increase is mainly due to face masks which contribute to maskne, congestion, and hyperpigmentation. However, for those looking for relief, you will be sure to find a treatment suitable to your individual skincare concerns from Dr Sturm's exhaustive yet intelligent menu. The treatment list is so impressive it even boasts sessions specifically for men (Men's facial) and for those with darker skin (Darker Skin Tones facial), ensuring that all are inclusive, focused on different skin types and specific to your concern.
Dr Sturm worked closely with award-winning actress Angela Bassett on the darker skin tones range, ensuring each product targets the dermatological needs those with darker skin types require; this includes potent active ingredients once again led by extensive research.
Additional extras can be included within your facial, from microdermabrasion to micro-needling and light therapy.
The skin is the largest organ of the body. It differs from person to person, including how it responds to environmental factors that can cause a negative impact, so it is always essential when choosing a facial or treatment to speak with your Dr Sturm expert before commencement. Our expert Evita talked us through the options on the menu and provided a comprehensive consultation focusing on the critical areas of improvement.
The editorial team (one male and one female) had differing concerns from rosacea to breakouts. The consultation was informative enough for one of us to change our treatment addition to maximise the benefits and results of the facial. The editors tried the Clarifying facial with additional microdermabrasion, and our male opted for the Summer Glow facial with microneedling. The Mayfair boutique spa also offers treatments, including the popular contouring Super Anti-Aging facial amongst the impressive list.
NASA-esque treatment rooms at Dr Sturm's Mayfair store and clinic
Treatment
As you step into the spa, you are greeted with a fresh beverage and the 'welcome touch', a form of massage to relax the muscles and bring holism and tranquillity into the room. Calm music is played throughout the session as a diffuser actively penetrates the treatment room with soothing essential oils. Following the relaxing greeting, your expert therapist will inspect the skin under a light. Once this is completed, each facial commences with a deep cleanse using Dr Sturm products.
Summer Glow Facial with Microneedling
As we move through the hopeful end of the pandemic, it is clear that more men are seeking skincare solutions to lift and tackle areas of concern. This is particularly interesting as spas have seen a shift from predominantly female clients seeking treatments or relaxation to more of the modern man who enjoys taking care of themselves.
Launched in July this year, Dr Sturm's Summer Glow Facial is the most recent addition focusing on seasonal skincare needs. During the winter, skin requires more vitamin D due to the reduction in daylight hours. However, in the summer, we are exposed to more UV rays following increased sun exposure; this comes with free radicals and heightened pollution levels. If you live in a busy city such as London, you may notice a dramatic difference in your skin; this can include breakouts following bacteria-filled commutes, dry skin and an increase in fine lines and wrinkles. This is due to metropolitan areas speeding up the ageing process.
This facial aims to calm, soothe, and hydrate the skin whilst providing protection from those above, leaving skin glowing, appearing healthier and plump.
Our male editor wanted to improve texture, focusing on minimising fine lines present on the forehead area and reducing rosacea around the nose. Following a deep cleanse, gentle exfoliation and facial extraction, skin felt refreshed. The anti-ageing massage was relaxing and included different massage techniques to increase circulation and oxygenation to the skin. The frozen hyaluronic serum ice cubes were soothing and ultra-hydrating, and we are informed penetrates both the outer and deeper layers of the skin.
Recreate this treatment at home
The additional micro-needling aimed to focus on the rosacea. It is a procedure involving very tiny needles in a pen gliding over the skin. Needles penetrate the skin about half a millimetre deep, creating micro-channels that help stimulate the natural production of collagen and aid the absorption of skincare products. Micro-needling is usually performed over time to allow the skin to reap the long term benefits of this treatment. The procedure is very gentle; Evita took care of pacing the process to minimise any discomfort, painlessly delivering this.
The procedure took about 10-15 minutes and focused on the forehead and cheeks. There was some stubble to the lower jaw on this particular day, so due care was taken in avoiding this area. Following micro-needling, you may experience some slight discomfort in the focused areas; however, it is not irritable, and you can indeed carry on with your daily routine.
The irritation does indeed subside very quickly; this may perhaps be down to the hyaluronic serum and sundrops that were additionally massaged carefully to the skin to complete the treatment. This had an immediate calming and soothing effect leaving skin hydrated, plump and soft.
Clarifying Facial
The Clarifying Facial was selected to target main concerns that included uneven skin tone, texture, and congestion related to hormones, stress and pollution following a return to London.
Initially, the clarifying facial and the addition of micro-needling was optioned. However, after consultation, our expert suggested that microdermabrasion would be more appropriate due to the active acne present on the skin.
Skin is cleansed in this case with the Darker Skin Tones foam cleanser that can be used daily am/pm. After inspection under the light, Evita massaged the enzyme cleanser (darker skin tones range) that comes in powder form and becomes active once in contact with water. Enzymes are crucial to cleansing whilst gently exfoliating the skin; the water activates this component, allowing the cleanser to gently lift dead skin cells without stripping the moisture and brighten the complexion.
Following this, the clarifying face mask is massaged gently. This is a game-changer in skincare; it is packed with powerful antioxidants designed to improve the skin's moisture barrier whilst targeting blemishes. Key ingredients include Zinc, Kaolin Clay, and chamomile. Zinc is an antioxidant with powerful skin healing properties and provides protection from UV rays. It also helps with collagen production, whilst the Kaolin Clay absorbs excess sebum, contains key ingredients for fighting against acne, and is effective for preventing breakouts. This can be used 1-2 times per week, depending on how oily your skin is.
The darker skin toner follows the mask with the addition of the light and soothing hyaluronic acid serum, key to the absorption of the active ingredients contained in both the clarifying serum and face cream. Both the clarifying serum and face cream (again from the darker skin tones range) are packed with preventative youth prolonging ingredients, filled with antioxidative compounds and botanicals to improve the skin's complexion whilst tackling acne.
The treatment ends with the best solution to UV protection, the Dr Sturm Sun Drops. This is most definitely the best line we have seen yet; it is compactly packaged in drop form and has added SPF 50. For those who wish to apply this under makeup, the SPF protection will reduce to 30-35%. Dr Sturm's Sun Drops absorb very quickly with little to no residue left behind. This may be due to the innovative ingredients, including Vitamin E - key to nourishing the skin (as well as protective factors from sun damage), or the addition of the plumping and moisturising Cassia oil. Cassia oil has been used for centuries to aid healing for skin conditions such as leprosy in history. Other benefits include improving circulation, treating acne, and using Ayurveda to calm the mind.
The additional microdermabrasion with manual extraction was surprisingly gentle, removing the outer layer of the skin and focused on pore minimisation.
Recreate this treatment at home
Darker Skin Tones Enzyme Cleanser
Darker Skin Tones Hyaluronic Acid
Words by Jheanelle Feanny