Vingt Sept
Ultimate guide for skincare lovers: Christmas 2021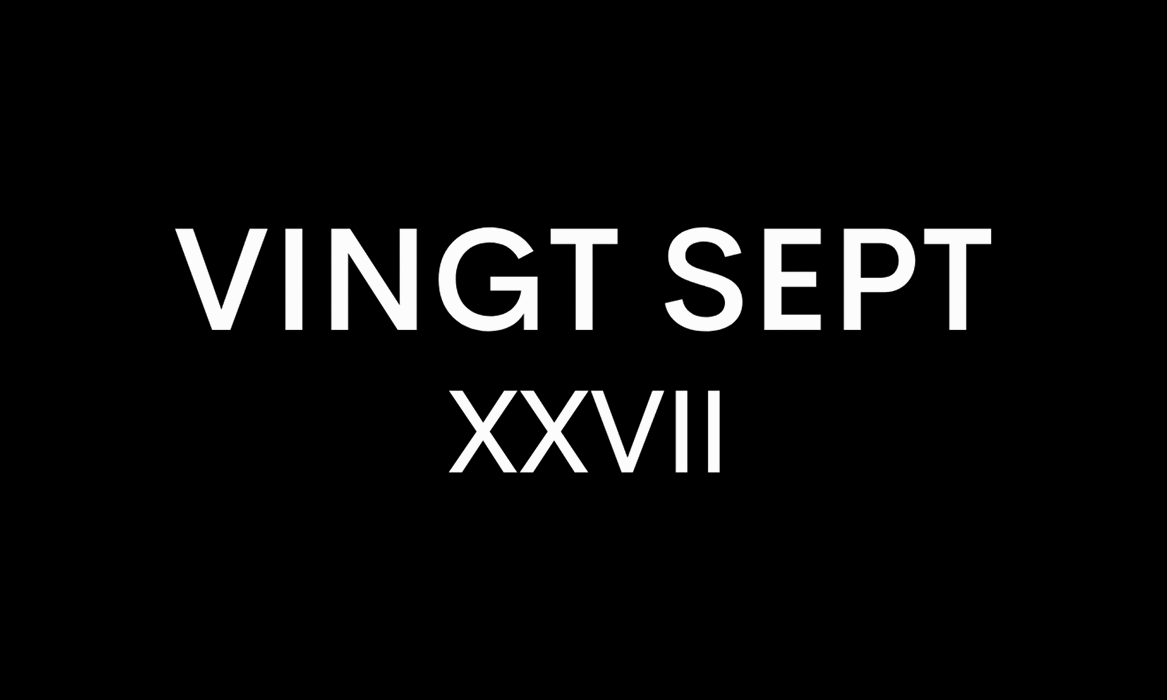 Yes, we can't even believe the year is almost out, and it's officially Christmas! Cue masses of shoppers, sold out in-store wishlists and just the stress of navigating through the festive period. Don't worry, though; we totally have your back this year. To take the stress away, our editors have been hard at work, carefully selecting and testing the most unique skincare gifts for every person on your gift list.
Sisley Paris return to this years guide with their phyto-blanc cleanser dubbed "The Holy Grail" by our editorial department. For the skincare expert's in your life, check out RéVive's gift set or La Prairie's rich Caviar lotion.
For rest and recovery, Lola's Apothecary has your back, with a collection of soft herbaceous scents and infused oils to soothe that special person from winter through to spring.
This year our editor's have scoured through many products to help navigate you through decision making for your loved one. This guide is designed to remove your stress during the festive season, and as always, supports your conscious buying needs.
These are our editor-approved products for your skincare obsessions this Christmas.
RéVive Réstorative Collection £350 available at RéVive - For the skincare expert in your life
This year treat your skincare fanatic with the RéVive Réstorative holiday collection. A gift perfect for those seeking salon results, this skincare set addresses lines, wrinkles, and dark circles through RéVive's two-step process. The rich formulated Intensité Crème (Lustre Night) is ultra-hydrating with jojoba oil and firming proteins, whilst the potent peptide-rich eye cream minimises the appearance of tired eyes. This gift is best for the skincare expert seeking luxury and dermatology driven results.
Algenist Blue Algae Vitamin C Dark Spot Correcting Peel £80 available at SpaceNK - best for banishing blemishes
Breakouts around the festive period can really put a downer on things, particularly as this is the time we want to relax without applying that heavy makeup before tucking into our turkey.
Try to find some time to allow for some TLC and banish those blemishes with this Algenist gift. Patented with Alguronic Acid, this peel effectively reduces the appearance of blemishes, fine lines, dark circles whilst brightening the skin at the same time. With a team of scientists behind them, it is clear why Algenist are award winners with their expert formulas. Use 1-2 times per week for results, and leave for 20 minutes before removing.
Freya + Bailey Control! Clarifying Face Serum, £50 available at Freya + Bailey - best for uneven skin tone
Niacinamide will be the product on everyone's shelves for 2022, and Freya + Bailey's serum is perfect for those suffering from uneven skin tone and texture during winter months. Niacinamide is a form of Vitamin B3. It helps build skin proteins supporting the outer skin barrier, and offers protection from free radicals and pollutants. Their serum is also hydrating with hyaluronic acid, perfect for those who suffer from breakouts, due to uncontrollable oil and sebum production.
La Perla Energising Salts & Oil Body Scrub £83 available at La Perla - for a sexy yet sustainable loved one
La Perla kicked off the end of 2021 with their much anticipated and long-awaited beauty line. Being avid fans of the brand, we were eager to try their body care range.
The sexy packaging and design are simply stunning. It can make even the most monotonous bathrooms an interior delight; however, the brand's product is the winner here. Their energising salts and oil scrub smells divine, perhaps down to the rich almond oil. Packed with prebiotics, rich nutrients and antioxidants, bath time is now spa time. It is clear that no expense has been spared within the range and explains why it has taken so long for La Perla's beauty line. They aim to bring sustainable, scientific solutions to the planet whilst using rich formulas to satisfy your inner goddess. Did we mention all the packaging is also refillable?
Katherine Daniels Essential Miracle Cleansing Jelly £29 available at Katherine Daniels - best 2 in 1 cleanser
Winners of the 2020 Beauty Awards Katherine Daniels's cleansing jelly is an excellent gift for those wanting to remove makeup and cleanse at the same time. Leaving skin perfectly cleansed, when activated with water, the jelly turns into a rich milk cleanser that easily removes the most stubborn mascara. Perfect for all skin types, it's a newbie yet a game-changer at HQ.
Sisley Paris Phyto-Blanc Lightening Cleansing Milk with Botanical Extract £112 available at Sisley Paris - Holy Grail of Cleansers
Sisley Paris products are the holy grail of skincare, and this is precisely why you pay the price for it. Their cleansing milk contains zero irritants, allergy inducers and is environmentally friendly. However, the fast results we experience always ensure that Sisley is a staple in our beauty cupboard. Phyto-Blanc is the secret to unlocking skincare concerns of blemishes, dark circles and uneven tone due to its intense brightening properties. Packed with high-quality ingredients, essential vitamins, rich oils and extracts, expect to see healthier skin and a radiant complexion within two weeks of use.
OQUIST 6 in 1 Antiaging Serum £67 available at OQUIST - the stylish anti-ageing serum come homeware piece
For those art lovers in your life, OQUIST's anti-ageing serum is the ultimate gift to tickle their souls.
The skincare and lifestyle brand unifies beauty with art in their waterless and high nutrient serum. Housed in a ceramic terracotta sculpture, the serum is packed with nutrients and collagen tightening fibres, including Paracrest Plant. The idea behind the brand is to reduce the number of products used in a skincare regime. The multi-functional line can be used as a day/night cream, makeup remover and serum focusing on specific concerns (eyes, face, decolletage).
We just love anything in beauty that is sustainable, and OQUIST's clay packaging really ticks all of those boxes. To help the planet once finished, upcycle their chic packaging as an interior, shower or olive oil dispenser, or pretty much anything you choose.
Decorté New AQ Collection from £47 available at Decorté - for the indulgent one
Decorté released their anticipated new AQ collection just in time for Christmas, featuring some beauty game-changers. The trio consists of an anti-wrinkle hand serum, lustrious body oil and skin-quenching body cream. The skincare line made in Japan contains key ingredients and botanicals found in Asia, bringing its most sophisticated products (yet) to those seeking pure indulgence and anti-ageing solutions.
As always, the hyper-detailed packaging is exquisite and pays homage to Decortés classic understated elegance. The hand serum (£47) smells like a nature-filled fusion, with hints of caramel and citrus. Containing our favourite for 2022 Niacinamide with the addition of Rare Snow Mushroom, Shirakaba Water and White Mucuna Extract, expect to see firm, plump hands with a reduction in lines.
The Treatment Body Oil (£110) and Body Cream (£120) melt into the skin, leaving skin supple, revitalized and smelling divine. A great hack is to pour a little oil into the bathwater to lock those rich nutrient-packed ingredients into the skin. The Body Cream is a whipped blend of botanical extracts and essential acids, leaving skin hydrated and plump.
La Prairie White Caviar Illuminating Clarifying Lotion £193 available at La Prairie - best science-led lotion
Lotions appear to be back, and La Prairie's offering is like no other, packed with peptides, skin caviar extracts, White Liquorice and Vitamin C; you will look to no other product to address age reversal. The packaging is truly opulent and kind of reminds us of the potion from film Death Becomes Her, so we were intrigued to review it!
If you have a loved one that is a skincare expert and seeking an alternative to botox, this clarifying lotion will be right up their street. Following two weeks of use, expect to find tight and firmer skin, a reduction in pore size and a glow.
Aromatherapy Associates Moment of Rose Indulgence £93.75 available at Aromatherapy Associates - best at-home spa gift
This Christmas, be sure to help a loved one unwind and align their chakras with the ultimate spa gift set by Aromatherapy Associates. The pioneers behind scent and essential oils have been producing fine lines for over 30 years, intending to bring high concentration essential oils and products to one and all. Expect to find these premium products across the world's most renowned spas due to their avant-garde natural range.
Moments of Rose Indulgence contains:
A potent rose bath and shower oil (literally two drops required)

Gua Sha comb

Body cream

Pink clay mask
The gratitude cards are a charming accompaniment to the kit, perfect for those with a busy lifestyle needing encouragement to unwind.
MONPURE The Gift of Strong & Thick Hair The Foundations £105 available at MONPURE - for those obsessed with hair science
Monpure is always a favourite at HQ due to its innovative hair range that supports all types and textures of hair health. The brand has been hailed as one the newest and leading brands for hair loss and scalp health due to the founder's passion for effective solutions for everyone.
Artist Bianca Timotheo designs this year's limited edition Christmas gift set in partnership with The Little Princess Trust, who provide wigs to children and young people who have lost their hair from illness and cancer.
Each box contains over £143 worth of products:
Clarifying Scalp Scrub 90g (RRP £48)
Strengthening Silk Protein Shampoo 250ml (RRP £36)
Strengthening Essence-Conditioner 250ml (RRP £36)
Pure Silk Scrunchie Trio (RRP £23.50)
With so many products in one place, it is a great gift for a loved one whilst contributing to a great cause. Key favourites include the shampoo and conditioner, perfect for those with fine hair, and the nourishing scalp scrub.
Glow Recipe Plum Plump Hyaluronic Serum £37 available at Cult Beauty
Every beauty regime needs hyaluronic acid. Not only does it provide moisture to the skin, but it is also fundamental to the absorption of the products you use that follow cleansing.
Glow Recipes Plum Plump serum absorbs very quickly into the skin and smells divine. Wake up with hydrated and plump skin, an excellent gift for a loved one.
Lola's Apothecary Herbaceous Breeze Collection £135 available at Lola's Apothecary - for those who love handmade botanical products
Last year we featured Lola's A Tale of Winter Rose, so we were so excited to try the Devon-based company's Herbaceous Breeze Collection.
Lola's Apothecary always impresses with its stunning packaging and romantic gift sets. All products are handmade in Devon with locally sourced ingredients ensuring premium lines each time. In this year's curated collection, expect to stumble across their Breath of Clarity Uplifting Body & Massage Oil, a rich, sumptuous meditation fragrance containing rose oil, Vitamin E, and high concentrate essential oils. Other favourites include the rich body polish containing raw cane sugar, crystal Himalayan salt, and rich shea butter. The set also includes a bath and shower oil, a body soufflé and energising botanical tea, perfect for a loved one needing TLC.
VOYA Organic Beauty Body Concentrate £72 available at VOYA - for the skin obsessed
Seaweed is a powerful antioxidant packed with many nutrients, with benefits that include balancing oil production, aiding collagen production, and improving skin texture and pigmentation. So we were thrilled to try VOYA's gift set.
Each set contains a nourishing sugar scrub, body oil and essential oils that are beautifully presented in a reusable tin to help with sustainability. The sugar scrub is a gentle exfoliator that cleverly nourishes the skin whilst removing dead skin cells. The evening primrose body oil is the perfect addition to relax the muscles whilst slowing down the signs of age. The essential oils bring connectivity to oneself and restore energy.