Vingt Sept
Cian Ducrot on album Victory, the industry and why this is his most personal body of work yet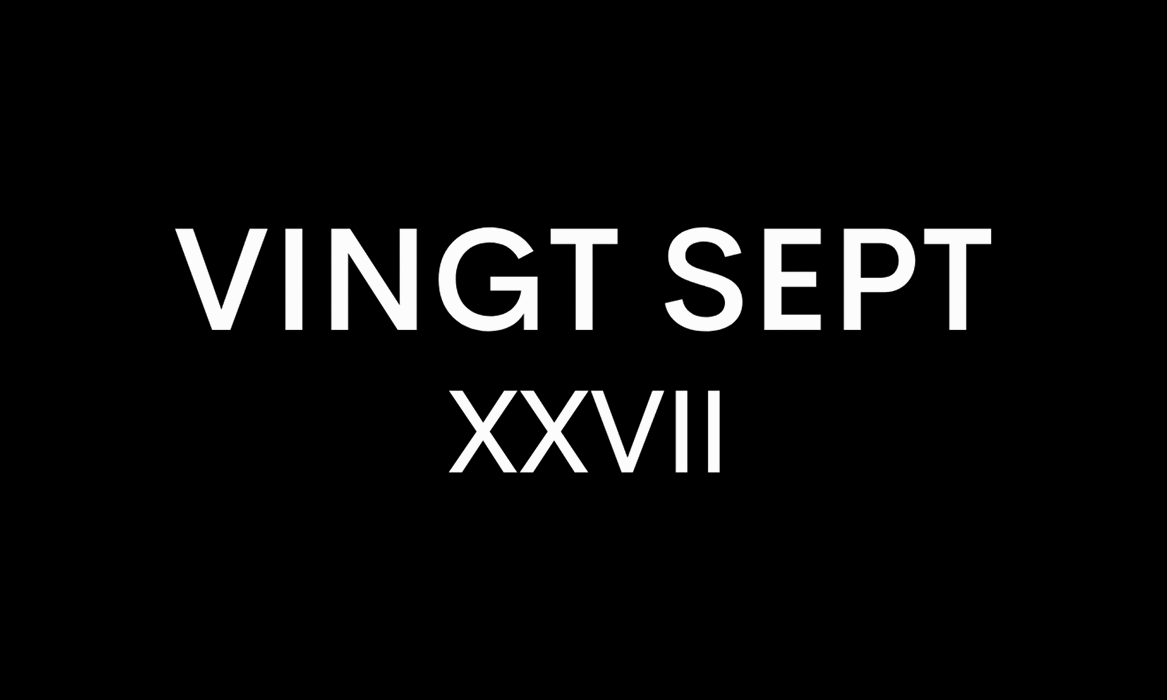 Music
Cian Ducrot is set to cement his rising star status in 2023 with his eagerly anticipated debut album Victory, a follow up to the musician's successful EP Make Believe. The Irish singer-songwriter, producer and multi-instrumentalist has also seen his recent singles - I'll Be Waiting and Gold-certified All For You - fly into charts, exceeding more than 300 million streams to date. Outside of rippling the industry and the charts, Ducrot has flexed his songwriting gift by co-writing tracks with musicians Lauren Spencer-Smith's Flowers, and a song set to be released with rnb sensation SZA.
We sat down with the multi-talented musician to discuss all things Victory, his inspirations and his vision for the future of music.
Tell us about the moment you realised you wanted to be a musician?
I don't think there was a moment, I think it was just gradual because I was really young and always really into music.
In some respects, I was lucky compared to a lot of people I knew doing music growing up, because I had seen in my mum that you could have a job as a professional musician. A lot of people don't see that growing up or their parents try to sway them out of it and get their kids to be something else, like doctors and lawyers, but for me I always knew it was possible.
My mum was always so supportive. I think it was more just figuring out what I wanted to do as a musician – I swayed between musical theatre, classical music, rock, pop. So, I don't really remember the exact moment, it was just always what I wanted to do!
How did you get your big break into the music industry?
I don't think I ever had a big break, but I suppose when you sign your record or publishing deal – it's the first real 'in'; that all came at the beginning of lockdown for me in 2020.
I was starting to grow my social media followers and released a song that was doing pretty well, so I think that put me on the radar in the industry.
Do you think there is a connection between your performances and the emotions conveyed in your music?
Yeah definitely, I guess it depends whether it's the emotion that I feel when performing or if it's the emotions of the audience. But I think that's the whole purpose of music - to create a connection with emotion, especially in live performances.
There's always an amazing moment when you're playing live and you're singing your music and healing in the process; and the audience is also healing and going though those feelings with you. There's something special about that connection.
What was the inspiration behind the cover art for your latest album?
The album is called Victory and I wanted to find something that subtly resembles victory.
There was a lot of inspiration behind the way it looks, and I loved the idea of water; I've always loved the sea, but also the sea can be a scary place and can surround you and be out of control. I'm standing on the plinths, which represent podiums and symbolise getting out of there, making it to the other side; you're rising yourself out of there.
I don't want to explain it too much as I like people to interpret it themselves too.
What was your inspiration behind the album and how did you approach the creative process?
My life is also the main inspiration when writing songs. I've always wanted to make music that I love which tells my story and sounds the way I want it to sound.
The creative process was a mix; some of the songs I had written a while ago and then there was also finding the songs I wanted to write.
Most people write 200-300 songs and then pick 14 that they want to include, but for me I wrote 15 songs and pretty much every song I wrote was exactly as I wanted it to be when I had finished it – so they all went on the album. That was really special.
I worked with this amazing producer, Tristan Salvati, a French producer, based in Paris. This felt symbolic to me as my mother is from Paris and she was raised there and lived there for a lot of her life. This album is largely dedicated and inspired by her.
It was a really beautiful process. I had other friends and collaborators working on the album too – it was just great to work with such talented people that allowed me to put my story into the album.
Are there any songs on the album that hold a particularly special meaning to you, and if so, why?
All of the songs are – I would never put a song on an album if it didn't have a special meaning. It changes from day to day, which one I feel has the most meaning to me – every song is super meaningful to me.
How did you go about selecting the collaborators and producers for the album, and what did they bring to the project?
I've always produced my own music, so it was hard to let go and trust other producers and find people I want to work with.
Tristan, I found in Paris, through a French artist called Angèle that I had been a massive fan of for years. Tristan did her production and I loved it as thought it was really cool and fresh and I'd never really heard it elsewhere. I worked with him once on a weekend and after that we really connected.
I still want to be producing and hands on and it was amazing because Tristan is really open and didn't cut me out – it was just a beautiful collaborative process. We would sit for hours just making music and I learnt lots from him.
It worked so well. I also worked with a couple of others in LA that had aced stuff I'd done before. I just had to pick people I really trusted and I'm really grateful to all the producers that I worked with.
If you could perform a duet with any musician, dead or alive, who would it be and why?
That would have to be Eminem because he was such an inspiration to me growing up and somebody who really helped me in my childhood and his music was something I latched onto. I think he's an incredible artist.
How has your song-writing process changed since you first started creating music?
My process now is more letting go and surrendering to whatever is coming to me from wherever it comes from in the universe. Whatever I hear in my head I just allow to be the inspiration – I like to just sit at the piano and let it flow.
I think more about lyrics than I did in the past and what they mean and that's when I refine and come up with stuff. I think the best songs come when I'm in the zone and there's a flow state you can get into. Now I know that exists, I try to get into those mind states.
Do you have any pre-performance rituals or superstitions?
I don't really have rituals or superstitions, I just like to have fun and get pumped up with my friends and the band, play music and get in the zone.
I think the outcome of a show is often determined by how excited and what mood I'm in before I go on stage, that brings the energy and how much I enjoy the show, so I really try to get in a really excited place before I go on stage.
What's the most unique or memorable fan interaction you've had so far in your career?
I had a really special one when I was in Amsterdam. A girl came up to me with her friends and her friends told me that she had been through what I went through in my childhood. That really hit me hard. To be there, standing in front of each other and be able to hug her knowing that she's listening to my music, heard my story, and then healing through that, is incredible.
It's just very powerful and I hope she's ok and I think about it a lot. Any interaction I've had like that really hits me, with people going through similar things. It makes me feel the music is doing something and it's all worthwhile because by sharing my story it can help others.
If you could only listen to one album for the rest of your life, what would it be?
Where the Light Is: John Mayer Live in Los Angeles. It's incredible and I think for one year it was the only album I listened to! Because it's live it's so unpredictable in so many ways and there's something special about that.
Have you ever considered collaborating with artists from different genres, such as hip-hop or electronic music?
I've thought about doing country, hip-hop and electronic collaborations, there are a lot of really cool artists I'd love to collaborate with and hopefully some of those are on the horizon. I think collaborating is really special and something you have to do – that connection with other humans and musicians is really unique.
What's the most unexpected or surprising place you've found inspiration for your music?
I think from other genres, like so much of my inspiration comes from hip-hop. For example, I'm listening to a Stormzy album, and the beats inspire me in a really creative and unique way. I get really inspired by lyrics and by great hip-hop and rap artists and songwriters, I love getting inspiration from a place that I can't necessarily do.
Do you have any hidden talents or hobbies that your fans might not know about?
Maybe that I skateboard and did for a really long time; and I also speak three languages!
If you could choose one city to perform in for the rest of your career, which would it be and why?
It could be any city because it always changes, and it's always amazing. Like I was talking about before, it's all based on my energy that I bring out and then the crowd reciprocates it. So, it depends on how I feel that day and how I much I enjoy the show.
Recently, maybe I'd have to pick Melbourne, Australia, maybe because it was the last show of that tour and I just let go and really wanted to enjoy it. There were so many Irish people there which added to it, but it changes all the time as there are so many great cities!
Aside from music, are there any causes that you are particularly passionate about and hope to bring awareness to through your music?
I write a lot about my life, which included a lot of child abuse and domestic abuse and those are causes I'll always be getting behind and raising awareness for. Also, men's mental health and suicide – I've written a lot about that.
I feel really passionate about a lot of causes – people's struggles and those in less fortunate situations. I will always try to do this through my music.
Victory is out now
Photographer Jack Alexander
Fashion Lewis Munro
Grooming Charlie Cullen
Interview & Editor Jheanelle Feanny