Vingt Sept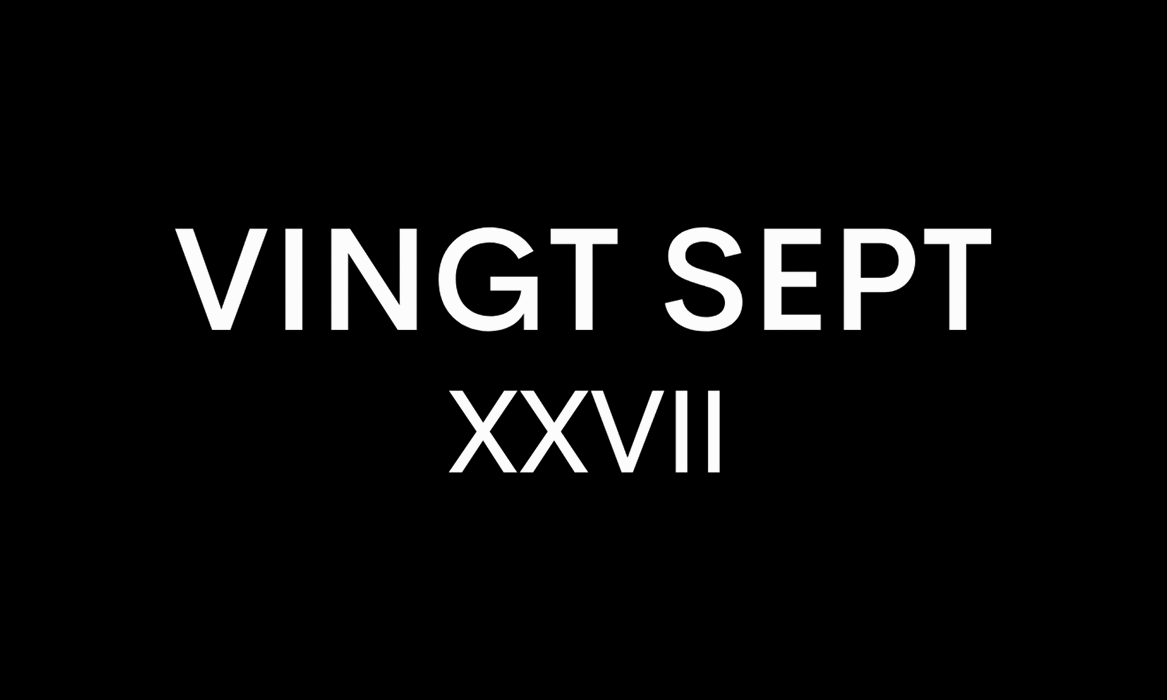 Music News
Despite being a self-proclaimed introvert, Juá is up for trying anything when it comes to her career. After leaving a male-led band when she was a teenager, she set out to carve her career on her own, starting by selling mixtapes to her teachers at school. Since then, she hasn't really stopped; she released her gorgeous EP Rainbow in 2020 and has spent the last year focused on learning new skills and what her future as an artist looks like. Her music is a wonderful fusion of soul and R&B that, when paired with her dewy, deep voice, creates a stunning sound that speaks to the soul. She's also heavily involved in the community around her; after often finding herself as the only woman in the room, she now focuses her time on helping other young, female artists figure out their careers. We sat down to speak to Juá about her career, her inspiration, and what 2020 taught her.
Can you tell us how you first decided you wanted to be an artist?
Yes, of course. I started when I was 13 years old, in middle school. And I actually started with a music group. It was a male-dominated music group, so I was the only female. I guess my independence grew from that moment. I just wanted to learn the ins and outs myself so that I didn't have to rely on everybody else to make things happen for me. At 14, I thought why don't I just make a mixtape and see if people like it? I sold it at school, and a bunch of teachers bought it. And from there, I went on to do small competitions on stage in Miami and then stayed in Florida for a while. Then I moved to Georgia. I worked in the Midtown scene and did a lot of shows there too. Now I'm in Seattle.
Did you feel as if there were big differences between the music scenes in Florida, Georgia, and Seattle?
Honestly, it was a lot different. I feel as though Florida has a different sound and style than Georgia, and especially to where I am now in Seattle. In a sense, I had to adapt because things change across borders. I guess I don't know how to describe that! But I noticed that in Georgia, there's a lot of soul. And in Florida, there are a lot of rappers. I started out wanting to be a rapper, but I changed my flow a bit. In Georgia, everyone was a lot more inclusive. Everyone was willing to teach me, guide me, and help me to get opportunities, so that was cool.
Do you manage yourself?
Right now, I do. It's really difficult. You have to think about the music and then everything else behind it. It's a lot of work – even just carrying yourself as well because you want your image to be what you want it to be. But I must also think about the business side of things and that's been difficult. Recently, I started working with a really cool female lead and she's going to help me with that. Honestly, I will say that I did enjoy being independent and I do love that I had the hands-on experience of growing on my own, and not really having anyone else involved, because it just showed me that I do have that strength to do it myself if I want to.
And you taught yourself how to produce music, didn't you?
Well, I started producing music when I was 14. It was different because I only saw men doing it. And in the studio, I never really saw women. Being so young, it was in my mind that I have to go to the studio and someone else is going to produce it for me. But I love the idea that everything is in my hands once again. I had to learn, I picked it up, and I started doing it at home. I never even had to leave the house. So introverted!
That's quite handy now that we essentially can't leave our houses though, right?
Yes! And the sad part is that I wanted to leave. I was ready as if the extrovert finally came out, and then all the shows got cancelled!
What was your schedule supposed to be like?
I had a huge show booked with Sofar Sounds. It holds intimate shows across the US. I think in Europe too. They're really private shows, so you can only get the tickets a few days before. My performance was cancelled, so I'm just waiting for things to pick back up. But what's cool is that I saw a lot of creative people around me and they've started making their own online performances and shows, which I got to be involved in a lot. That was cool because it was a different vibe. It taught me that you must be able to adapt because anything can happen. So that was an obstacle but a learning experience too.
Have you done any online performances?
There was a live stream called The Cure, where I would sing for a few minutes and then talk about my experience as an artist. Then we would give donations to a local organisation or business. We talked about being creative and sang, and that's exactly what I do. We had another one, Community Through Unity, which is a healing event with yoga and a lot of meditations. At the end, I would perform, usually outside. It was really beautiful.
Can you tell us more about your work with the brand We Are Historically?
The brand donates a lot of its profits to nurses and frontline workers! And I made my own brand called We Are Historically Magical. We put together a story behind my brand, so now I have a tonne of T-shirts with my face on them! It was cool because I got to work with the brand through one of the artists whom I really look up to.
That's so fun! What was that creative process like?
It was exciting. Oh my gosh, I love doing new things. But I was also very intimidated because I was managing myself. Now that everything is online, it's completely different. You just have to learn it and it's a lot to learn. But I definitely love that everyone was so welcoming and willing to get on board with me and collaborate. That energy was just really amazing.
Let's go back to your music and your musical influences. We hear a strong sense of Amy Winehouse in your music. Is she a big inspiration for you?
My biggest influence comes from my dad being a DJ because he plays a tonne of music, so I listened to every genre growing up and I just meshed so well with soul and people like Sade and Amy Winehouse. Those figures really brought my sound out of me, especially Adele. They just have so much soul and impact in their voice. For me, it wasn't about their image because Sade and Adele don't dance on stage. They just sing and they give it to the audience, and that is something that I want to put in my music, so, when I was writing Rainbow, I didn't think of it on stage, or being with a bunch of props with glamour. I thought of what I wanted the audience to feel, to see. And that's what I was really going for. What could I convey with these words that I'm using? And yeah, that's how it came out. It was a fun project, upbeat, and different from what I'm used to. It was honestly the best project I've done in my career.
We especially love Loot. We've had it on repeat for days! Can you explain the meaning behind that song?
The idea behind that was that money kind of rules everything. And in a sense, people will press you because you don't make enough money or you don't live up to what everyone expects you to be. And that song was saying that, well, if you don't have any money, then you're nothing in this society, but on a lighter note, well, you got to get out of here, because this place isn't for you. You must find some way out of the norm. And that's what that song was for me.
You seem really in touch with divinity and are doing an incredible job at staying positive despite everything. You're such a ray of light. How did you get to this place?
Thank you, I really appreciate that. I will say the biggest part of that was confronting all the dark things, and that all of you know my insecurities and where I fall short. During Covid, it was time to look inwards and really work on yourself, so a lot of that time I'd tell myself that I'm not as good at guitar as much as I thought. I was picking at myself. It was just small things like that. But really, it was just me identifying my weaknesses and not looking at them as weaknesses. It was a point for me to grow and it's cool to see that because if I didn't pick up the guitar, I wouldn't be playing the guitar. It's a lot of inward reflection, looking at who I am and not being distracted by everything else. Often, I would go on social media and feel clouded by everyone's judgement, everyone's way of thinking, but I had to make a path of my own. That was really cool once I actually felt strongly about that, understood what I wanted my path to be, and what I wanted to share with everyone. A lot of it was just being alone and being okay with being introverted – and enjoying that. It was a lot of introspection.
Has this introspection helped you move forward and figure out what's next?
I'm definitely thinking about where my path is taking me. I think of when I was a kid and when I started making music and had no direction, but I just wanted to do it. It fuelled me to work with younger people around me and younger artists, who really want to learn how to do it, so, I started working with the radio station, and I work with the youth in the city. We put together events and we do a lot of shows. It inspired me to teach others. I'm not just stopping here with myself. I feel that I need to spread the love, spread the knowledge, or whatever I have. I know that for anyone feeling the way I did as a kid, I want to be able to at least guide them, support them, or tell them that there's understanding in that.
Whilst you're working with others are you still creating your own music?
I'm working on new music constantly. It just comes out of me and I'm having so much fun with it. Because there's no pressure, to perform, I'm going with the flow and I really love that because that's what creating is. It's about being free and doing what you feel. Right now, I'm working with a lot of producers so that I can learn and release work that I'm proud of. When I was younger, I remember not having a lot of resources and putting out music that wasn't what I really wanted it to be. Since I now have that capability, I'm taking it slow and vibing with it for a while. I'm looking forward to shows though. I need to be on stage – I'm missing it so much.
When you can perform again, what do you think it will look like?
I see it outside in summer. I want a bunch of lights around me and I want it to be a very intimate environment. Lighting plays a cool aspect in that. Instead of having dancers and props, I want to have cool light shows. Something really simple but also eye-catching. That kind of show allows you to just focus on the voice too. Honestly, I'm not a dancer, so I leave it up to my voice to really put that emotion out.
Are you working on anything else?
Right now, my biggest objective is working with women; I'm doing a women's empowerment retreat. At the moment, I am working on doing a production event, a three-day event where I bring in women from Seattle to create music, but it's also going to be very healing. We're all going to collaborate and celebrate our wins and our losses because it was tough last year. I want to start the year off strong and involve the people who I know made a huge difference, especially in the music world.
Photographer Connor Picken using Apple iPhone FaceTime
Musician Juasworld
Fashion Jorden Jakobs
MUA Carissa Blossom
Words by Sophie Winfield
Sub Editor Primrose Jeanton