Vingt Sept
Freya Ridings Opens Up on Album Blood Orange and the Emotional Power of Music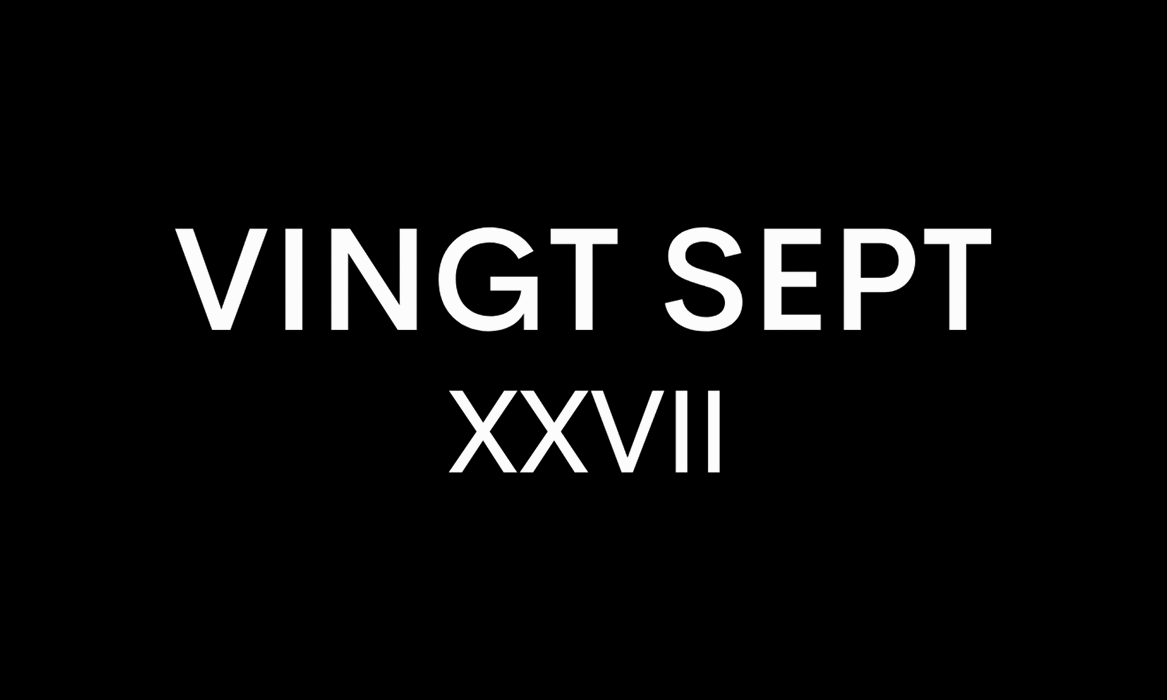 Music
A multifaceted artist able to convey emotions through music, Freya Ridings returns with the release of her second studio album Blood Orange, highly anticipated by her newest single Weekends.
Sitting down with Vingt Sept, Freya narrates her bondage with music, how her artistic soul evolved from one album to another and what we should expect from her work from now on.
What are some of your earliest memories of music? Have you always wanted to be a singer?
Growing up, I came from a very bohemian household, where both my parents loved playing musical instruments. My dad played acoustic guitar, and my mum played the piano and the Celtic harp, and I think just watching their genuine love and passion for music, I assumed that that is what you do. You choose your instrument, and that is what you play. I started playing the violin but I couldn't sing with it, so I decided to try and learn piano. My mum taught me a few chords, and my dad taught me a few chords on the guitar and that was when I started writing songs; I was about 8 or 9 years old. But I felt like I was really late to the game. So my earliest memory was watching my dad write and play guitar. When he went away to work, I would pick up his guitar and try to play the same songs.
Who would you define as your biggest musical inspiration?
So I say they are kind of the Holy Trilogy: Taylor Swift, Adele and Florence + The Machine. Growing up I had Florence and Beyonce on my bedroom walls. They were my two posters, I didn't actually have a Taylor Swift poster, but I did go to all of her shows from her first album onwards. I was a 12-year-old watching a 16-year-old write and play her own songs and be so unapologetically herself, her lyrics are so brave. For me, those three female icons all had something so different. Adele and Florence being redheads as well - were my total inspiration as I'm the only redhead in my family. Their voices and lyrics are so honest and powerful.
How did the writing process change for your upcoming new album Blood Orange compare to your debut album?
I think it was a huge jump forward. The first album I wrote in solitude. I really struggled to open up and let people help me. I was very much "it has to sound this kind of way". With this album, I wanted to open up and allow collaboration to be a bigger part of it and include a lot more musicians and friends playing on the album. For my first album, there were a lot of people that I didn't know, making it more of a distant process. With this one, there were people who I loved, playing the violin, piano and guitar in my songs; it was more collaborative. I was more vulnerable in terms of letting people help me create this. I'm being honest about the sound I want to create, whereas, with the first album, I was making what I thought people wanted from me. With Blood Orange, I just wanted to make music that I adored listening to. The sound took me a while to get it to where it is now, but I'm really happy with the result.
How did you musically and personally evolve between the two albums?
Oh my god! Massively, hopefully?! I feel like a Pokémon that's gone from Charizard to the big Ninetails one? You know, evolution. I think as a person going from your early twenties into your mid to late twenties is already a huge leap. With my last album, I was living at home with my parents. I wasn't together with the person I loved, and I was in a sort of young mindset. With moving out, buying my first place, getting back together with the person I love, being engaged, getting married, and travelling to LA to finish this album - there were so many things that were personal fears to overcome. I've tried to use this album to say the things that scared me the most; that was my goal, to say things I didn't find easy and to make music that felt brave to me. That's the word I would keep coming back to, "brave" - It's euphoric moving away from that melancholic music. I'll still be a ballad girl at heart, but in my live shows you will still have sad lyrics but in a more euphoric way. I feel like a different person from three years ago.
What is the inspiration behind this new album and when did you start working on it?
So Blood Orange is the last three years of my life in a time capsule; almost like a diary. You can hear the evolution from me being very heartbroken and struggling with that. It is called Blood Orange because there are two very noticeable halves - 18 months where I was just really alone, touring, struggling with heartbreak on the inside, but on the outside playing to thousands of people and appearing like I was having the best time. Having time to get back together and just allowing yourself to bravely fall in love - that's the joy and euphoric happiness in it. Hopefully, you can hear which song comes from which half.
Tell us about your new single Weekends: the writing process, what it means to you and the connection with your upcoming album Blood Orange.
Weekends is one of the first songs I wrote for this album and it was a complete accident. I was travelling and it kind of came out almost like Acapella when I was in a run-down truck stop bathroom, getting ready for a show. I shut my eyes and just sang it, and it just came out like, "I don't have friends" (sings melody). That was the scariest thing that I could admit was on the outside. I looked like I was so surrounded by people but on the inside, I was struggling with isolation. I hadn't seen any family or the person I loved in a long time. Then I went into a writing session with Steve Mac, I was so excited to work with him as he's one of my favourite producers and songwriters of all time, but I was really scared and nervous. I'm not usually nervous with songwriting sessions, he turned to me and asked "what have you said to yourself recently that really, really scared you?" He also opened up to me about his life, I opened up about mine and where I was at, and he said that the song was incredibly sad and wanted it to sound euphoric.
Weekends is a song about feeling lonely and carrying a broken heart, trying to heal through music: should we expect something similar for the other songs of your upcoming album?
I'd say sonically to expect something completely different from the other songs. They're a lot more organic, with real instruments, but still in a pop way, like Cowboy King and Elton John - they were huge inspirations. The 70s was all I listened to for this album... Nile Rodgers and Diana Ross, a lot of 70s, pretty much all 70s. For the rest of the album, I'd say, the one thing the songs all have in common is that they were me trying to say the things that just absolutely terrified me, but in a way that musically felt authentic to me. I found a few people who championed me to go with that scary idea or that weird idea and step outside of my comfort zone sonically and lyrically; I'm very grateful to them for that.
Can we call it a cathartic process?
Can we call this a cathartic process? It was incredibly painful. I do find writing and recording terrifying. I think that it's such a liberating feeling afterwards, almost similar to the end of a therapy session when you feel that relief and are relaxed because you've got something painful and toxic out of your mind; you've realised what it is and understand yourself a little more. In some of my early songs (and the heartbreak ones), there was so much pain and rage. I got it out sitting at the piano trying to translate them into stories that could uplift people and myself. Songs do kind of take on different forms; they can also evolve into so many other moments as you play them.
Is there a particular artist you would like to collaborate with?
I always say Taylor Swift or Michael Kiwanuka - I know you wouldn't necessarily put those two artists together, but for me, Taylor is my idol from growing up. I think she is a legit poet laureate of our age and got us all through our teenage years together. Michael Kiwanuka, I just can't stop listening to his music, it's his songs in the car that always calm me down and stop me from feeling car sick. He's that 70's vibe, he's got such an incredible soul.
If you could choose another field to blend your music career with, what would it be?
I'm incredibly passionate about skincare, beauty and makeup. I grew up with really sensitive skin and wasn't able to wear makeup until I was 20, or 21. I had eczema, and sensitive skin - I couldn't wear anything. So when I found skincare products that worked for me after spending a lot of time and money searching, I was so grateful for overcoming cystic acne. I started on TV with HD cameras - which is terrifying, so for me, that glow-up mentality of helping women feel like the best version of themselves is my obsession. So I'd love to make a skincare, makeup, or fragrance line - I'm very passionate about fragrance!
Aside from Blood Orange, what else can fans expect from you this year?
A lot of touring! I already have so many ideas for my show. A lot of this album was written to perform live. It was (created) in the depth of the lockdown imagining myself playing to tens of thousands of people again. Over the summer getting to play some festivals, we got to try out some of the new songs with brass and backing vocals. The reaction from the crowd, considering these were songs they didn't know, was so incredible and warm. It made me excited to build this show and come back with more songs. We toured so much with one album, so I'm excited to have double the number of songs that I'm so proud of, taking a few from the first and adding them to this chapter. I'm going to build something I'm incredibly proud of. I'm thinking brass, confetti cannons, outfit changes, the whole shebang. I'm going to be standing up, I'm going to be brave. Because that was another one of my fears- standing up and singing. So I'm doing all of the things that scare me in one go.
Interview
Blood Orange is out now
Photography Sophie Adams
Interview by Anna Quirino