Vingt Sept
Kit Connor on playing Nick on Netflix's biggest LGBTQ+ hit Heartstopper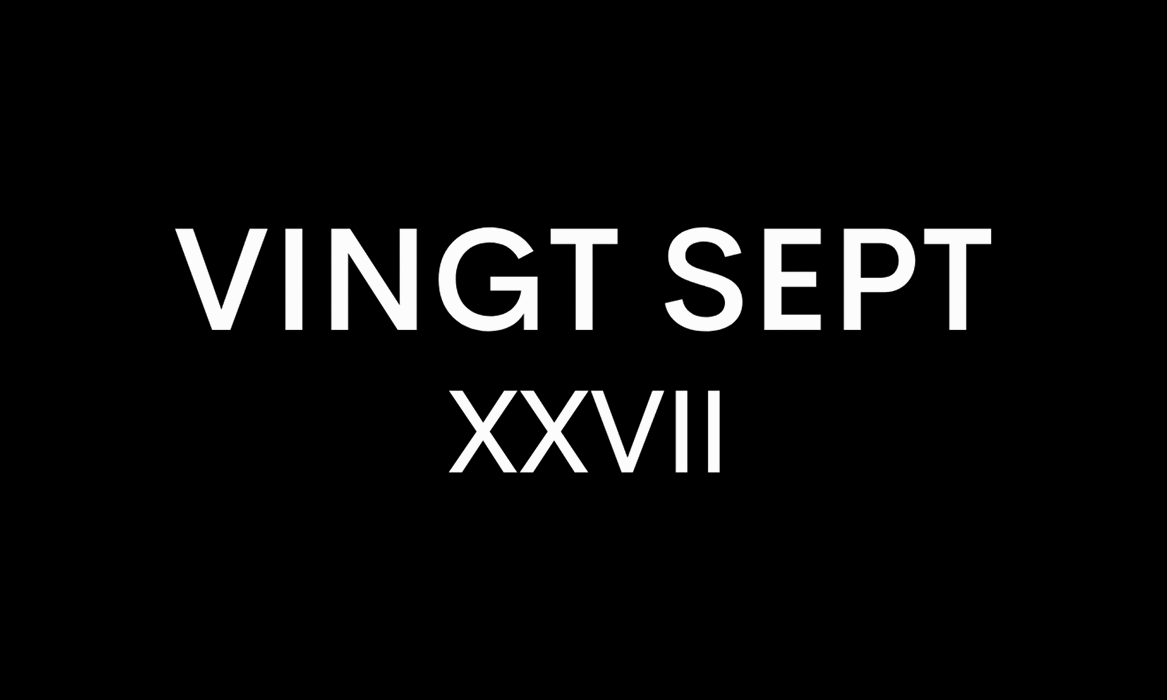 Film
The hotly anticipated Netflix series Heartstopper is a heart-warming, wholesome, pastel-coloured love story between two British teens at an all-boys grammar school. Charlie Spring (dazzling newcomer Joe Locke) is sensitive, overly apologetic, and openly gay – something which makes him the subject of regular mockery at school. Nick Nelson (Kit Connor) on the other hand, is a kind, cheerful, charming rugby player. When the two meet in class, what begins as a sweet friendship slowly blossoms into a beautiful and joyful love story.
Although all eight episodes of Heartstopper are released on Friday, April 22nd, the show already has a devoted following. That's because it is based on the incredibly popular web comic of the same name, created by 27-year-old Alice Oseman – they also wrote the script and served as a guiding force in every aspect of the show's development, promising fans a loyal adaptation of Charlie and Nick's story.
The series brings together a host of talented young British actors, from complete newcomers to seasoned acting vets. Though only 18 years old, Kit Connor has been working since the age of 9 – best known for playing a young Elton John in Rocketman, he's also acted opposite Emily Beecham and Ben Whishaw in the sci-fi drama Little Joe, and currently stars as the voice of Pantalaimon in the BBC's His Dark Materials. On the other hand, many of his castmates are new to acting, though they are nothing less than perfect in their respective roles: Joe Locke, as mentioned, makes his screen debut as the endlessly lovable lead; William Gao, who plays Charlie's endlessly cynical best friend Tao, gets the lion's share of the laughs; and trans activist and TikTok sensation Yasmin Finney makes her TV debut as their friend Elle, who is navigating being the new girl at a neighbouring school.
Jacket Indigochino at Slowear Shirt Zanone at Slowear
Ahead of Heartstopper's premiere, Vingt-Sept Magazine sat down with star Kit Connor to chat about all things, from young Queer representation in media and his hopes for the show, to his own secondary school experiences and his plans for the future.
First and foremost, how's the build up to the release of Heartstopper been for you, given how excited fans are for the series?
It's great! It's very overwhelming to see the amount of support and positivity that people have shown for the show. Even since we were first announced, it's been this gradual build-up of excitement and support. Everyone's just been so nice about it, so I guess we just hope that they like what we've made.
From your perspective, what aspect of the show are you most excited for people to see?
I mean, I knew from the very start that it was a real honour for me to be a part of this project. I think that it's an incredibly important project to be putting out there; it's that demographic – anyone can watch it! – but especially younger teens… that's a demographic that hasn't really had much Queer representation at all.
It's an incredible honour to be able to give that demographic this kind of representation. For a lot of the people involved in making this show, none of us really had anything like it growing up. I think that's something I'm really proud of and that I'm excited for people to see; the show is just such a positive, heartwarming look at life and the LGBTQ+ community.
Jacket Marcelo Burlon Vest Cos Trousers Ermenegildo Zegna Shoes Tod's
It's interesting you bring that up because some have described Heartstopper as the anti-Euphoria. What do you think of that label, and is it even a relevant comparison?
I mean – I've watched Euphoria and I think it's an incredible and beautiful show, and I think that shows like that are incredibly important to see. And their Queer representation is amazing. But I think maybe "anti-Euphoria" isn't quite right. It's like the other side of the same coin. Heartstopper is very innocent; it shows young love and the beauty of Queerness and growing up as someone still finding themselves.
I think there are a lot of shows that portray the LGTBQ+ community in a slightly darker, more negative, very gritty way – which isn't a bad thing, but I think we also need to have a more positive portrayal of that world.
Like seeing a more light-hearted, innocent portrayal of young Queerness?
Exactly. I think that it really is the kind of thing that you can watch with your parents and your family, whereas I'm not sure I would really want to watch Euphoria with my parents. It's one of those shows. But this is something that is accessible to everyone, which I think is important.
Jacket Billionaire Boys Club X ICECREAM
Now, rewinding back to the beginning: tell us about getting the role, and what attracted you to Heartstopper in the first place.
I originally auditioned with a self-tape for the role of Charlie. Which, I think a lot of people are surprised to hear because I'm just not Charlie. I wouldn't suit that role at all – even from a physical standpoint, it's very much not me. But they used one of Charlie's speeches in the show to audition people. I believe the scene that they chose was a moment where Charlie is talking to Nick from a really, really vulnerable place and putting all his cards on the table. And I found that really genuine and real, but also innocent.
Immediately, reading that, I knew that this was a project I would love to be a part of. And I had heard of the graphic novel series of Heartstopper before so, as soon as I got that audition, I read the first volume. And it's so easy and nice to read. But yeah, I think they quickly realised that I wouldn't be very good for Charlie and that I was probably better suited to Nick. From there it kind of just happened!
I did a chemistry read with Joe, then we all did a chemistry read together with the main ensemble cast. Even from that first meeting, we all got on really well and it was all very natural; I've had some very stressful casting experiences and casting journeys, but this was overall very nice. Obviously, I really wanted the role, but the entire process was made so smooth and easy by the whole production team – our director Euros [Lyn] and Alice [Oseman], Patrick [Walters, executive producer], Zorana [Piggott, producer], the whole team really made it so enticing and welcoming. I really wanted to be a part of it, and I was so happy to finally get that role.
Cardigan Connolly Jumper Dolce & Gabbana
And you've already been in this line of work for a long time, acting opposite some industry giants. What was it like getting to work opposite other young actors, many of whom are just starting out?
It was incredible, really. Joe, as an example, is a complete newcomer to the industry. But within a week, he was already like an old, seasoned vet, which was amazing to watch. He fit in so easily and had a great understanding of how a set works, how to hold yourself, how to act on set. He was great. There wasn't really a point where it felt like anyone was a newcomer or inexperienced. It really was like any other job – except with everyone being so happy and excited that we got to be there, that does add another layer to the experience.
And for me, there are things that this job has allowed me to do that I hadn't done before. And it's all been incredibly exciting and just really, really cool. There were definitely some very experienced actors on set too, though, like Sebastian Croft. He's an incredible actor and he plays Ben, which I think is a hard role to play and he does it brilliantly. He's had quite a similar childhood to me in the sense that he's grown up on stage and on screen. But as I said, I think it was really refreshing to work with the people I worked with, and everyone immediately fit in, which was amazing.
You all seem to have become really good friends.
Yeah, absolutely! We are all like a family now. Immediately we would try to see each other and go out and have fun on the weekends. And obviously, our unit base was a school, so at times it did feel like we were all going to school together, like a little family. It was great, just an amazing four months of shooting.
Jacket Connolly Vest Cos Trousers Ermenegildo Zegna Shoes Tod's
And of course, Heartstopper is a warm and lovely show, but it also deals with some very genuine struggles that many teens – and Queer teens in particular – have to endure. Is there a scene that comes to mind that you found difficult to play?
There were several scenes that I found very hard to play. The first one that comes to mind is one of my final scenes in the show; it's me and my mum, when I essentially talk to her about my sexuality. As soon as I read it, I knew this was the one I really wanted to get right because it's such an important moment in a lot of people's lives, that a lot of people can relate to. Hopefully, people can draw comfort from it and maybe find the courage to do the same and express their sexual identities. And again, it's an incredible honour to be able to do a scene like that, but it was definitely one that was really challenging.
There's also another one where I'm talking to Charlie in his bedroom and I'm soaking wet from the rain, and we're essentially discussing our relationship and how our friendship has evolved. And because that's a pivotal scene in the comics, it was something I wanted to really get right. And watching it back – I think Joe's amazing, and I hope to say that we did that scene justice because it really is pulled straight from the comics. There are a lot of scenes that weren't particularly easy, but those were definitely some of the harder ones.
Cardigan Connolly Jumper Dolce & Gabbana
Nick's character goes on this amazing journey learning to accept his identity, but an initial obstacle he's presented with deals with bullying and ignorance from his peers. Alice Oseman has previously talked about their experience of high school and how they don't think that contemporary teens are as 'woke' and inclusive as one might presume. Since you're closer in age to the characters, what is your view and experience on that subject?
I agree to an extent, in the sense that our generation does have a reputation for being much more woke and more progressive and accepting; but at the same time, I think that can be used as something to hide behind. As someone who goes to school, I know that homophobia is not something that is solved. It's still very present, and still, a big, big part of being Queer is having to deal with that bullying and treatment. It's so wrong that it's still the case, and that it was ever the case, but it's something we don't shy away from in the show.
While we're still trying to keep that positivity and that light-heartedness, it's important to also portray the problems that Queer teens have to go through. It would be a cop out if we didn't attack those problems. But I agree it's absolutely not a solved problem – it's still very present not just in schools, but in everyday life. You find so much homophobia in the world, and it's awful that we're still at that point.
But hopefully shows like Heartstopper can do their bit to help. I don't think it will solve it, obviously, but I do hope it can help people. It really is just showing people how beautiful Queerness can be. It's no different to any other kind of love, it's just love.
Earlier, you said that you quickly realised in the audition process that you'd be better suited to portraying Nick. Was there something in Nick's journey that you particularly identified with to lead you to that conclusion?
I think that Nick is an extremely relatable character. There are so many elements of his story arc that you can identify with and, for me personally, I can absolutely relate to so much of his story. The biggest part of Nick's story is his internal conflict, that mental turmoil that so many people experience – and even outside of sexual identity or things like that, it's about dealing with other's expectations and finding your own path.
My experience at school has been very two-sided. I've grown up as an actor, but I've still been going to school throughout that time and that definitely has an effect on you as a person. Firstly, it does mean that you tend to attract certain people who maybe are only friends with you because you do something that's different and kind of cool. And I think Nick is so effortlessly popular, but he doesn't feel like he's ever really tried or asked for that. He's just good at rugby, and he's nice and easy to talk to so people like him. And he just goes along with it and ends up with that crowd. If it wasn't for acting, I don't know how my school experience would have gone – I can certainly relate to him in many ways, but especially in dealing with other people's expectations.
For him, it's being a rugby player, and everyone assumes that he's this macho, straight, stereotypical rugby guy. And in the same way, I dealt with certain expectations of me as an actor. That journey of dealing with these expectations and learning to accept yourself, appreciate yourself, learn more about who you are and to love yourself… that's something I can absolutely see in my life that parallels Nick's.
Jacket Billionaire Boys Club X ICECREAM T-shirt Moschino
As if school wasn't hard enough as it is!
I wouldn't change it for the world. I've had such an unbelievably lucky childhood, and I've been blessed with so many amazing experiences and met so many incredible people that I admire so much. But yes, in the same way, it wasn't always easy.
You've been at this for almost a decade now, and this is probably your biggest role to date – we can assume that you're in a position to be very selective about the projects you take on. Do you have any specific criteria for picking them?
Growing up, it was just a matter of what auditions came up. It was very much about luck at that point. Things like Rocketman was just an incredible, incredible bit of luck… I didn't seek it out or anything like that, it definitely landed in my lap, and I auditioned for it and happily got the part. But definitely, in the last year or two I've been able to be a lot more selective. I don't really have any specifications for the jobs, it's very much a matter of, if there's anything amazing that comes my way and that I really want to be a part of – like Heartstopper – then I'll push for it and try to be a part of it somehow.
In the same way though, there are definitely jobs that I've felt aren't right for me or that I'm not keen to do. I find that I spent a lot of my childhood playing a younger version of another character – which is amazing. I did that for Rocketman and it was really cool – but that's something I've been keen to get away from. Especially now that I'm turning into somewhat of an adult, I'm trying to establish myself differently. Those kinds of roles are great, but Heartstopper was a real pinch-me moment. There's a scene where there's a younger version of me and meeting him was so great. It was a really crazy moment, because I'm so used to playing the younger version of other actors and it was cool to have the roles reversed.
It's funny, because Rocketman also belongs to the LGBT movie canon, and there's a sweet moment in Heartstopper where Nick is Googling the best LGBT movies for a night in with his mum. Do you have a favourite one, and do you think it'd be the same as Nick's?
I'm not sure it would be the same. Nick's film taste is quite basic, really [laughs]. It's documented that he's quite a big Marvel fan, which – I mean, I love Marvel as well! – but I'm not sure what his favourite LGBT film would be, really.
I'm trying to think what mine is… There are some really beautiful films, like Call Me by Your Name, which is such a piece of art. But I don't know, you might have to come back to me on that one. There are just so many fantastic ones – Pride is amazing, Moonlight, I mean, I don't think I could ever pick one.
Jacket Tod's Vest Cos Timepiece Vacheron Constantin
Okay, big question: now that you've got ten years in this industry at your back, where do you see yourself going in the next ten years?
Ten years is a long time! I mean, hopefully, I would love to play Nick Nelson a couple more times. That would be great. And I would like to play some different roles – I've been saying recently that I'd quite like to play a slightly meaner character, maybe a slightly darker character. I think that's a great opportunity as an actor, which a lot of actors are keen to get, so that'd be the kind of thing I'd like to do at some point in the next ten years. I'd also love to go back to theatre at some point, because I haven't acted in theatre or the West End in a good few years now, and that was always a lot of fun and a real buzz. It's a very different experience to TV and film, so I'd love to go back to theatre at some point.
You said you'd love to go back to the role of Nick, does that mean there's been any chatter about another season of Heartstopper?
I know nothing! I know absolutely nothing about anything. They don't tell me anything, I'm just putting it out there that if they did ask me to come back, I would be very happy to. It's been a real pleasure. And I love all the other volumes of Heartstopper; there are so many amazing stories that are still to be told, and if we get the opportunity and people like what we give them, then here's hoping! Fingers crossed.
Generally, on a day when you're not on set, what are you doing?
Several different things. I love watching films and TV, that's definitely become a passion of mine as I've become an actor. I'd love to watch more theatre; when I'm finished with school, I'm going to try and go to as much theatre as possible, and watch all the TV and films that I can. Since filming Heartstopper, I've also become a fan of fitness since I had to bulk up a little bit for the role. So, I go to the gym quite a lot, just because it's fun. It's not even a fitness thing anymore, it's just an enjoyable pastime. Sad as it sounds, I think those are my two biggest things when I'm not acting.
Jacket Indigochino at Slowear Shirt Zanone at Slowear
And school, for now.
Not too much longer! I'm done in a few months.
Sitting your A-Levels soon?
I am, yeah, in May. Doing English, History and Drama, so just lots and lots of writing, which is great.
Are you thinking you might go on to university?
I'm going to try and see how it goes, see where things go with acting. It's really what I want to do in life, so if I can continue that, then I will.
And as a final question, can you share a fun fact that fans might not know about you?
God, is there a fun fact about me? Am I just really, really boring? How about, when I was young, I used to do karate. In fact, no – I also used to play paintball, like quite a lot. I was obsessed with paintball. That was my thing for a good few years.
Heartstopper is out now on Netflix
Photographer Kayt Webster-Brown using Nanlite
Fashion & Editor Jheanelle Feanny
Fashion Assistants Az Thatcher & Yonnah Seho
Video by Bradley Dixon at Chewy Media
Words by Laura Potier
Location and special thanks to The Pullman