Vingt Sept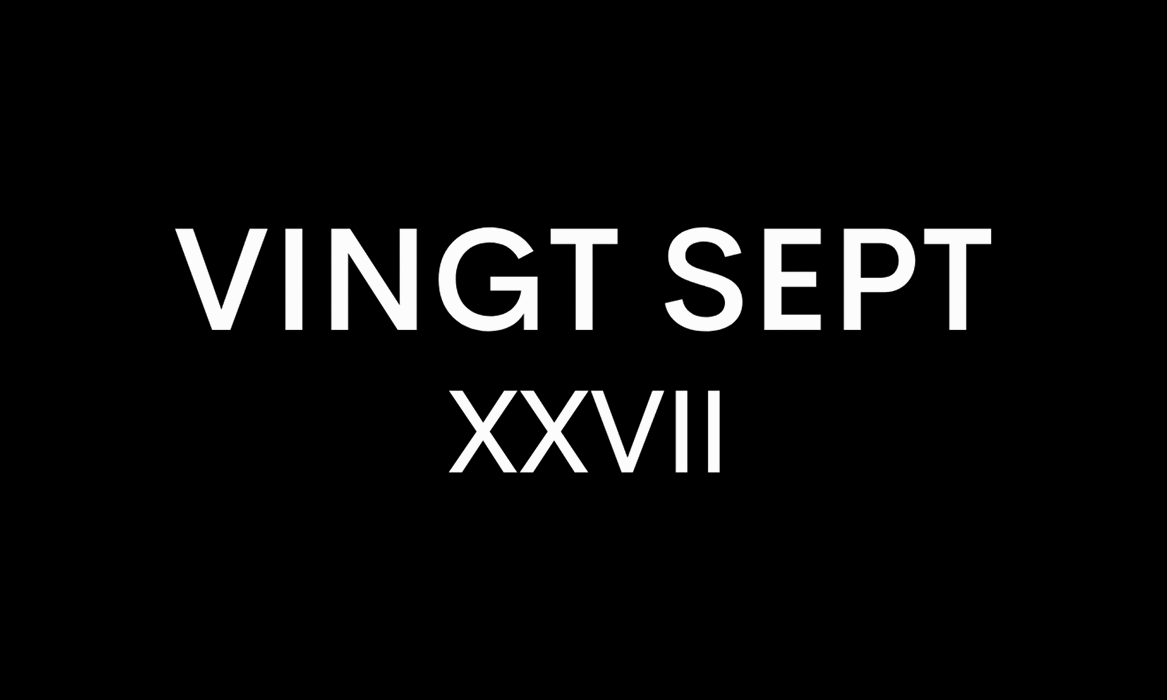 Editorial
Lauren Wasser is a force to be reckoned with. Dubbed 'the girl with the golden legs' and 'bionic Barbie', the model, advocate and Toxic Shock Syndrome (TSS) survivor almost didn't make it to tell her story. The model-activist is no stranger to the camera, bagging her first shoot aged just 4 months old alongside her model mother for Italian Vogue, shot by the late French fashion photographer Patrick Demarchelier. Legendary Demarchelier sadly passed away in March 2022 and was known for his iconic images of Princess Diana, Madonna and campaigns for brands Dior, Chanel, Yves Saint Laurent, Tommy Hilfiger and more.
At 24 years old, Wasser endured her first amputation after coming out of a coma with just a 1% chance of survival; all induced from the use of tampons. Instead of allowing the pain of the experience to define her, she continues to use her voice and experience to fight for transparency around the issue, and hopefully a change in the industry of female sanitary products.
When not being busy changing the world and inspiring others, Lauren can be seen on the runway, sitting at the front row of shows or fronting luxury fashion campaigns, all whilst being an activist and attempting to change bills in the US.
Away from the glitz and glamour, Wasser can also be found in sunny California with her rescue dogs, her 'babies', working out like a true athlete and being a down-to-earth and edgy chick.
Full look Tibi Earrings Stephen Webster
We sat down with Lauren, grabbing a window between her busy schedule after Paris Fashion Week on a sunny day at East London's Guitar Social, to discuss her journey and what lies ahead for the future.
For those who aren't familiar with your story, tell us a little bit about it, about being a toxic shock syndrome (TSS) survivor, and ultimately why you ended up having your surgeries.
I was 24 years old. I was using super-absorbent tampons by the same brand that I had been using since I had started my period. It started off as flu-like symptoms. I was changing my tampon as I should, as we all do, and basically, toxins just took over my system, got into my bloodstream and started shutting down my organs. I had 107 fevers, my kidneys and my organs were failing, and I had two heart attacks. I was ten minutes from death, had to be rushed to the hospital and, thank God, there was an infectious diseases doctor on call. He located the tampon, sent it to the lab, and it came back as TSST-1. Once they realised what it was, they were able to diagnose me and I was more receptive to the medicine, but I had a 1% chance of survival and was placed on life support in a medically induced coma. I woke up from the coma a week and a half later. That's kind of where the nightmare started actually, I guess.
The surgery happened because I didn't get any blood flow to my lower extremities. My body was trying to save my brain, my heart, and my internal organs. It didn't really care about my external organs or my external limbs, so gangrene set into my right leg and was moving so fast that they didn't really have an option but to amputate. Then my left foot was severely damaged. I was in excruciating pain and gangrene set into my toes, so I had my toes amputated. And then my heel was severely damaged; it was burnt with gangrene too. I fought hard to try to salvage my left leg for seven years, but the damage was irreversible. It was already too damaged. That's why I decided to have the second amputation when I was going to turn 30. I didn't want to live that life anymore; I spent my 20s just trying to survive. I really had to just build myself from the inside out, from the bottom up, and figure it all out. I wanted to be who I am. I am an athlete and mobility is something we all need to do anything with, you know.
Why do you think there is little information about TSS, even though it can happen to anybody? Why isn't there much education for young girls?
Because it's a billion-dollar industry. Unfortunately, money rules the world and as a women's health issue […] I always say that if men's dicks were falling off, this wouldn't be a problem. It would be resolved tomorrow. But women, unfortunately, are not seen as equal to men and we're given extremely toxic products that we then place inside of us at such a delicate time. It just creates the perfect storm.
Dress & Harness Preen by Thornton Bregazzi Boots Jimmy Choo Earrings Soru
You touched on the fact that it's a billion-dollar industry and people want to protect that, but why do you think there's a lack of education in schools? Particularly for young girls, who have sex education, shouldn't TSS be part of it?
Of course, I think it should be. But again, I think that periods, in general, have been such a taboo subject. From our parents and from our mothers, it's a very discreet thing. If you're on your period and you go up to a girl and say, "Hey, I'm on my period. Do you have a tampon, or do you have a pad?", it's a very awkward thing. But we should be having these conversations and we should be happy that we have our periods. I mean, we're superhuman. We make babies. We're so amazing and it should be empowering, but it's just never been seen like that. Generationally, it's been something that's kind of swept under the rug. Tampon companies have been doing a really good job at getting away with it because there hasn't been enough awareness. There's the misconception about leaving your tampon in too long and that's something that tampon companies have gotten away with too because then it's not their fault; it becomes yours.
When this happened to you, you were in your early 20s, you were modelling, and you were very active. Did you feel a change in your friendships and the people around you, or were they really supportive?
Honestly, I don't think I would have made it out without the amazing support system that I have and had at that moment, especially my mum, my brother, and all of my friends. I don't think my hospital room was ever empty. Not only the doctors and nurses, but the consistency of the love that I received really pulled me through. Obviously, once I got home, realising that it was my fucking reality, everything kind of set in without the doctors and the check-ins and the people around me. It was just me and these four walls, in a wheelchair with no left leg and my left foot open, in question.
Jacket Vintage Trousers Philosophy di Lorenzo Earrings Missoma
I was in excruciating pain and they gave me 80 pounds of fluid to get all the toxins out, so I was extremely heavy. I had to shave my head because my hair got matted. Everything about me was completely stripped, so I didn't recognise myself. I didn't recognise anything. I just felt like, "What the fuck just happened?!"
Within 24 hours, my entire life had changed. My faith got me through. I'm very religious and I believe this is my purpose. After all, I shouldn't be here; there was a 1% chance for survival. I mean, that's insane. And then I'm thriving in life and you can't just write this shit up. It's definitely my purpose and that's why I'm so grateful for this position, especially for my platform, and to be able to showcase another side of beauty, educate, but also hopefully inspire people to believe in themselves and to know that they're not alone. If I can do it, they can too.
You come from a family of models and you modelled as a child at just four months old. Do you think that the shift we've seen within the industry is enough in terms of inclusion and diversity or do you feel like there's much more work to be done?
I think 15 years ago if this were me and in this position, because I've been fighting for my position in this industry for the last ten years, they would have been like: "Hell no." But I think timing is everything and God's timing is perfect. I think that the industry is never going to be perfect, but it's definitely changing.
Full look Christopher Kane
Conversations are happening, the inclusivity that has been going on with say Rihanna and her trailblazing, making sure that everybody is seen. It's very important and has to be highlighted that there's someone out there that is probably or maybe going through the exact same thing you are. The beauty of being able to be seen is that you can connect with others. You never know who's going to resonate with you, your story, your vibe, or just seeing you, and how you can inspire or make them think that they too can live their dreams, especially now.
Do you think it's important that feminine products are regulated more, like pharmaceutical companies? Does the world need to know that we're not doing a good job with regulating feminine products?
Yeah, there is no real regulation. Generationally, on the market, there's only been the ones that we know about, the brands that we know about. Those are just told to us and we're taught how to use them, change them every few hours and this and that and the other, but in actuality, nothing has ever changed about the tampon. There are still tampons that have chlorine and bleach and all these dioxins and synthetic fibres that don't belong there. Even if it's cotton, it's still sprayed with pesticides. We're putting them inside of us. It's not like a band-aid. It's going inside in the most delicate place and it's like a gateway to everything. I definitely think that it should be regulated as much as anything.
You watch tampon commercials and you see a girl running on the beach, or on a slide, or fucking swimming, and there's no warning that that product can kill you, or endanger you, or that you can lose limbs. But if you're watching a men's Viagra commercial, even if you aren't looking, you hear about it and its dangers. A tampon is a medical device, technically, so why is there no warning?
What I'm saying is that it's not even in ads; you flip through magazines and it doesn't say anything. There is no warning, so these young girls, these women, are using these products thinking: "Oh well, it can't kill me, it can't hurt me." I mean, I think it should be like cigarette boxes; it should show you the actual shit that can possibly happen to you. Then if you want to use it, it's your choice.
Full look Tibi Shoes Malone Souliers Earrings Stephen Webster
Do you think we should stop tampons completely?
We're in 2022 and the technology is out there to make safer products, but the problem is that it's not cost-efficient for them to do it. It's about dollars, not about the life and that's what's so fucked, you know.
Is there any tampon company that you would recommend to girls now?
Honestly, there's nothing on the market that's safe enough for anyone. Like I just said, even if you're using organic tampons, they're still sprayed with pesticides.
You've used your experience to break down barriers in the fashion industry. Did you find it challenging to go back into the industry after surviving TSS? Or were you welcomed back with open arms?
I wasn't showing anyone 'me' at all at first. I had my right leg and then my foot still, I had no toes, and it was just skin and bone. It was excruciating, but I knew that once I realised that TSS had been killing and injuring women far before I was even born, and that I was really just the lucky one that got away, I felt it was my duty to showcase to the world that this shit is not going away. That this is very much still present right now and that this almost fucking killed me. A tampon almost killed me. That's just insane when you really think about it. There are so many women, mothers and their families who have lost their loved ones because of this shit and you'll never know or hear about it, and that's the heartbreaking part. A lot of people only know my story but there are millions of women that this has happened to.
Why did you decide to paint your legs gold?
It was kind of me figuring out how I was going to make this prosthetic 'me' and how I was going to let you know this thing is a part of me. I just loved gold, and A$AP Rocky with the gold teeth and rocking the gold grill. I was like: "Shit man, I'll just rock gold legs and just have bling all the time," and yeah that's kind of it. It's kind of been my thing.
Dress Halpern Boots Jimmy Choo Earrings Stephen Webster
You went to congresswoman Carolyn Maloney, who has continuously been working to pass a bill that would become the Robin Danielson Feminine Hygiene Product Safety Act. Where are you now in that fight?
Still fighting. She's been trying to reintroduce the bill. She's been doing it for about 10 years and it's still something that we're trying to get done. It's really stupid [that the bill has never been passed] because it's just for us to know exactly what's going into these products and the long-term effects on us internally. I think it's important, especially with endometriosis, polyps, and cysts that are a rising occurrence among women – including really young women. I think we've never seen that before and I really believe it's because we're putting things inside of us or we're using things that are extremely toxic. And, of course, use them enough and something's going to happen. I think that's the eye-opener; women need to be more aware of what they're putting inside of their bodies and question a lot of things.
But in terms of progress, how far are you with that?
It's still ongoing. I mean, honestly, I really believe that this may take my entire life to change.
I'm doing a documentary soon actually. I have 90 hours of unseen footage from when I went into the hospital. My whole point of sharing that with the world is to make sure that people are not just hearing my story, because I could tell it all day long, but physically seeing the pain that I endured and had to go through in there, the horror that my family had to see, and the trauma that it was. My mum kissing my legs goodbye, and me screaming for her to not let them take me back and take my legs. That shit is heartfelt and real, and I hope people will see that, feel that, and see their loved ones, their daughter, their cousin, their wife, and get angry, want to do something about it, and demand change because this shit shouldn't be happening.
You've overcome so much, and you clearly have a lot of strength. What advice would you give to other TSS survivors, who experienced it and are coming out the other end?
I mean, it's a process. With anything you go through, it's going to take time. It's not going to get better overnight, but I think your mind is the strongest thing that you have control over. In those moments, whatever you're facing, you must decide on whether you're going to own it, deal with it, see it as a challenge and hopefully overcome it, or whether you're going to let it defeat you. I think that when you hear it in that sense, you want to fight and, hopefully, people seeing me –
regardless of if it's TSS related or not – and my whole journey, inspires and gives hope.
Are there any career highlights for you since opening up about your TSS experience?
I've had so many highlights. I think it just keeps getting more and more unreal and very much surreal. It's definitely a dream; I pinch myself every day. God blessed me so much that I forget about all the pain. But one favourite thing is the show I did for Savage X Fenty in the Barclay Center in 2019 when I was with all the big girls and I was finally highlighted and seen. Being on stage, and being in that element, and then having someone like Rihanna just having us there, showcasing and celebrating the beauty that we are, was such a huge moment because I felt like I'd finally fucking made it. And it's Rihanna! I mean, you can't beat that.
You're pictured working out and doing lots of different types of sports. How do you manage to have such a hectic workout routine, be with a partner, whilst also travelling and being an advocate?
I'm currently training for the New York City Marathon, so it's just insane. I think, being an athlete overall, and life is about balance. Being able to mentally and physically be aware of your body and be in tune with it is important. My schedule gets insane, but if I'm not running ten miles, I'm walking ten miles. What I mean is, yes, my training schedule when I get home is going to be really insane, so yeah, I'm a little scared. But you know, it's nothing I can't handle. So, I just try to balance. I think that's the thing in life we all try to strive for: figuring that shit out.
How do you really feel about being cool and being called the "Bionic Barbie"?
I don't think I've ever really been called that; I think they said that or I shot something like that. I didn't know. I always get "the girl with the golden legs", but "Bionic Barbie" sounds great. It's fucking sick; it's really cool. Everyone looks at me all the time and they're always like: "What the hell?!" But that's the beauty because they've never seen someone like me and I think that's so cool and fun. I can showcase beauty in a way that's never been seen. I'm no different from anyone else; I do everything anyone can do. I'm so lucky, I just love my life, and I'm just grateful to be here and to be in this position is like icing on the cake.
Editor, Words & Production by Jheanelle Feanny
Editorial Director & Photographer Philipp Raheem
Art Direction by Carlo Zambon
Fashion by Harriet Nicolson
Hair by Federico Ghezzi at One Represents using Bumble & Bumble
MUA Adam de Cruz at One Represents using SUQQU
Sub Editor Primrose Jeanton
Shot using Nanlite
Location and special thanks to The Guitar Social