Vingt Sept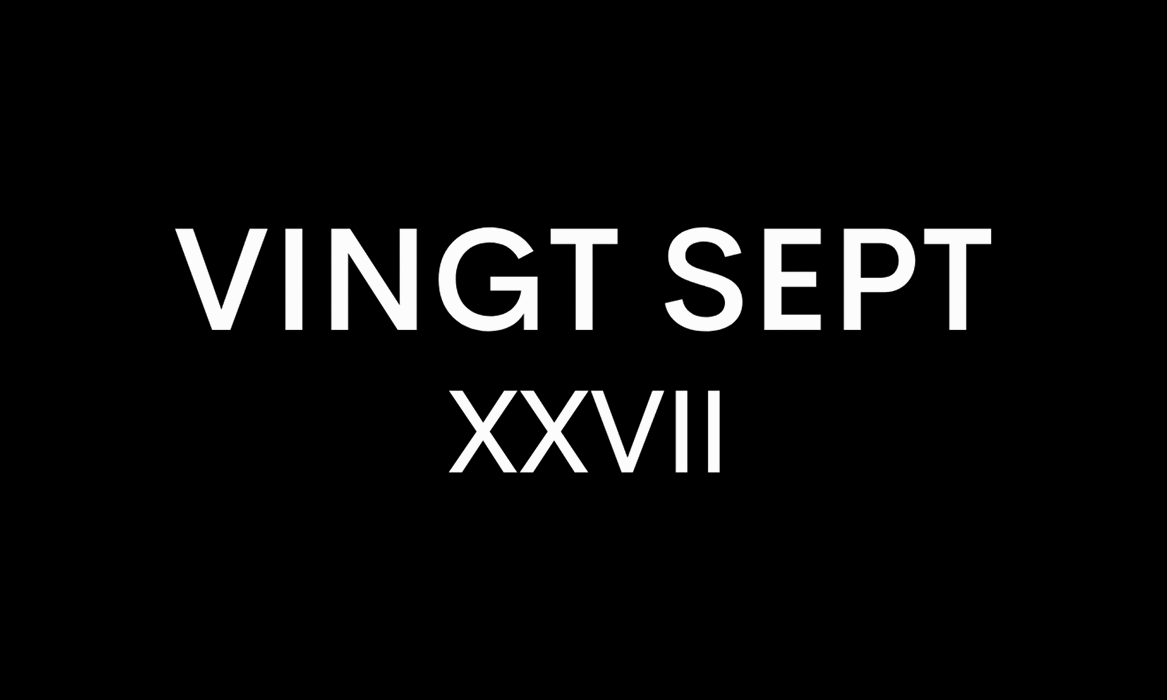 Music
As a country, Canada has a lot of things to brag about. Maple syrup, ice hockey, and Niagara Falls are all honourable mentions in an embarrassingly impressive list of iconography. However, the time has now come to add Peach Pit to that list, the country's most exciting musical export since Celine Dion herself. A quartet of rousing talent, the band is made up of close friends Neil Smith, Christopher Vanderkooy, Peter Wilton and Mikey Pascuzzi.
After releasing their third studio album From 2 to 3 back in March earlier this year, the boys embarked on an exciting string of UK live shows. We caught up with the band after their electric show at the O2 Forum in Kentish Town back in May to discuss the inspiration behind the new album, the impact lockdown had on the white creative process and the possibility of being truly satisfied as artists.
How was the concert last night? How do London crowds compare to those back home?
Neil: It was incredible, they're crazier than the crowds back home, to be honest. We never got mosh pits at our shows usually, it's not the sort of music you'd do most to, so when people start doing that to our music and go for it it's always great when it happens.
How has the rest of the tour been, because this is the first time you've been on the road since lockdown isn't it?
Neil: Yeah, it's been amazing. Playing live and going from city to city playing shows, is definitely my favourite thing about being in a band and the four of us are really good buddies, we just have tones of laughs. When we go on tour it's a working vacation, but we love it and just laugh and joke all the way, it sure beats being at home for the past two years.
Your latest album was written during lockdown. Did you find isolation a creative hindrance or did it help when finding inspiration?
Neil: Erm, It was a creative process. I think it was a bit of both. It definitely inspired the sound of the record. We were kind of chilled out and were definitely trying to make an album that sounded like we were all in the room together, with the instruments we had in front of us why'll we were at home. I guess it was a block in some ways because when you can't leave your house there's a lack of inspiration, you need to go out and do stuff in order to have material to write a record, so when you aren't doing anything it is kind of difficult. Time made the record what it is, you know with the pandemic, and made us work more independently.
Is there a reoccurring theme throughout the songs on the album?
Neil: I guess one of the main themes for me, was thinking a lot about my family and my friends and reminiscing about times that we had spent together before we got locked down. At the beginning of the pandemic, I was just in my little bachelor apartment, for a few months by myself so I really was alone and it got me thinking about my friends and family a lot. Also at the same time, I stopped drinking a few years ago and that was really heavy on my mind. I'm glad I stopped drinking before the pandemic because I would've just been getting black-out drunk every day and I guess those were the themes.
Christopher: I think the biggest themes that I hear on it, are heartbreak, addiction and nostalgia - these are the three things that come to mind. The time you spent with loved ones before the lockdown, you can really hear the nostalgia for that in the lyrics. The Peach Pit classic is the heartbreak special, so that has to be in there as well!
Do you feel like your writing style has changed since you first started, particularly the perspective you are writing from?
Neil: Our perspectives are always changing. I think I am always going to be the songwriter who talks from a nostalgic or reminiscent point of view, just because that's how my brain works. We started this band when we were twenty-one and now we're gonna be thirty next year, Peter got married two years ago, and Chris is getting married this summer, so the perspective changes. I don't really know, how I'm going to change as a songwriter necessarily, but those themes will always be there.
Who are your influences as a band?
Neil: We got super hooked on The Beatles, I think all of us have always been Beatles fans our whole lives. We watched a documentary about George Harrison that really inspired us.
Chris: The Beatles have always inspired us, that's a tribute to them as an entity and a face of music that they're always going to influence people. For me, as a child I watched School of Rock and just watching these kids start a band and play a show, there's influence from that in there too.
Neil: I remember watching that movie, I was in the theatre with my buddy and we must have been about ten years old, but sitting back and watching that we were getting so hyped up watching these kids get so excited by rock 'n' roll music. I remember that day, I first heard Back in Black by ACDC and ever since then we wanted to be in a rock band!
You've played some incredible shows on this tour. Is there a goal you're working toward as a band, or a moment that can completely satisfy you as artists?
Chris: The biggest goal is to just keep it fun. You see a lot of bands, whose career expands and you can see that it becomes more of a job than something fun. I don't know what it is that makes that happen, but if we can still be doing this when we're fifty and still be enjoying it, then that's the dream.
Neil: The truth of the matter is, from my experience, that there is never a thing that makes you feel satisfied, unfortunately. If you told me when we were sixteen that I would get to play The Commodore Ballroom, I would say I could die happy afterwards! Ultimately, we did get to play, The Commodore Ballroom, and it was loads of tiny steps that got us there, so when we got there we were ready to play and I could recognise it was a special moment, but you have to find satisfaction along the way, there's no endgame that's satisfying, I don't think.
From 2 to 3 is out now
Words by Joshua Evans