Vingt Sept
Step into the future with actor Tom Austen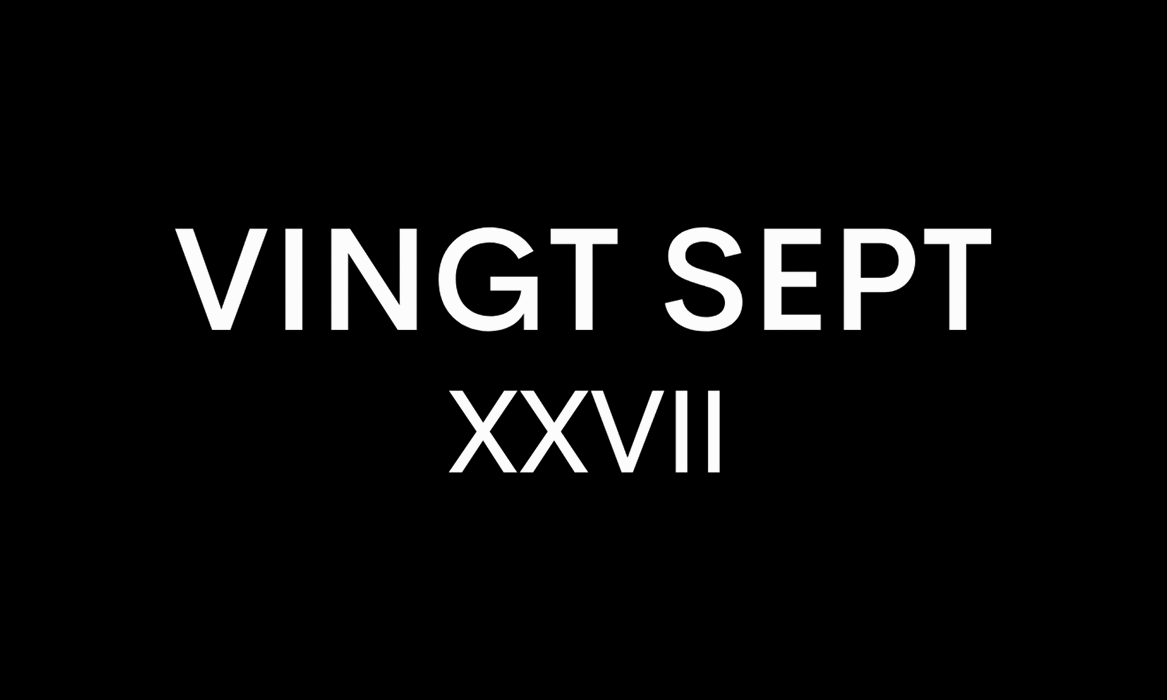 Getting to play a superhero, let alone one that exists within the Marvel universe, is a career milestone many actors can only dream of. For British actor Tom Austen, however, it recently became a reality. With Hulu's new show Helstrom, the Marvel Cinematic Universe branches out into the completely new territory of horror. Based on a set of comic book characters, it tells the story of siblings Daimon and Ana Helstrom, who happen to be the children of a powerful serial killer but decide to define their own fate and hunt down the worst of humanity. Following the US release of the show, we spoke to Austen to find out if playing a superhero is as great as it sounds, what releasing a show during a global pandemic has been like, and what he has planned for the future...
How would you describe the show to someone who doesn't know anything about it?
Helstrom is a story about a family – a brother and sister – who are born into the world from something or someone that is not of this world. With that, they are given a certain set of abilities and use those to try and counteract the evil they were born with. In the comics, it's very clear who that person is, they very much use the S-word and call him Satan, but in the show, we never actually say that word – it's implied.
Coat Belstaff, Shirt Raf Simons, Trousers MR P at Mr Porter
Can you introduce us to your character?
Daimon is a guy who is incredibly conflicted. Both he and his sister suffered massively at the hands of their dad when they were younger. He's spent most of his adult life trying to undo those wrongs. He's very driven by the guilt and shame of who he is. What happened to them as kids has also left their mum in a bad way, so a big part of what he's about is trying to save his mum and get her back to the person she was before. He's very layered. He seems cold and abrupt in the beginning but throughout the show, those layers are very much peeled back, and we realise he's not all the things he seems to be.
How did you prepare for this role?
The comics are very much a jumping-off point, of course. They are the main source that inspired the show. I looked at them a lot. I came onto the project at the very last minute. I flew to LA to meet all of the producers and then never came home because I went up to Vancouver to shoot two days later. So, I had to learn a lot and learn it fast. At the beginning, I was looking at this guy and he was doing all these incredible things. He's a superhero with lots of powers, but ultimately I had to figure out who he was first. Paul, our showrunner, showed me one frame in the comics when Daimon finds his mum's diary, which she wrote when he was a kid. He looks at it and it's this beautiful drawing of tears just streaming down his face. Paul explained to me that it was his way in, and he was hoping it would be mine too – and it was.
Suit by Brioni
What was it like to portray a Marvel comic character?
We were lucky in the sense that these characters are so unknown and they're from an obscure corner of the Marvel universe. They operate in a world that doesn't necessarily have that very juggernaut that Marvel has become with the Avengers and everything like that. We were able to just go and do our own thing. But you inevitably feel pressure because you are aware that this is something that means a lot to many people and you want to do it justice. You want them to love it as much as you love it. It's a dual thing; it's so exciting and a huge honour, but it's also terrifying.
What was the dynamic like with your co-star Sydney Lemmon?
Sydney was the first person I met when I went to LA because she'd already been cast. We read together and we had an instant connection and chemistry. We felt like we'd known each other for a really long time. The show goes to some dark places, and Daimon and Ana go to those dark places a lot together – and often in opposition to each other – so you really have to trust the person you're working with and know that they've got your back and you've got theirs. That doesn't happen very often. A lot of the time, actors go from job to job and meet new people, trying their best to have that connection, so we were lucky just to have it naturally. I think she's incredible in the show and I feel very lucky to have met her and have become friends with her.
L-R Cord shirt Michael Kors Collection, Jumper The Kooples, Suit by Brioni, Shoes Dr Marten
What was your favourite part of working on this project?
It's a hard one to say, but I'd be lying if I said that the stunts, which we got to do most of ourselves, weren't fun. I mean, who doesn't want to have powers? So much of what we did in the show was practical and most things you see were really there on the day. If you see someone or something flying across the room, that actually happened. All of that was amazing, but unless you have the actors opposite you and people who are really invested in what you're doing, it's all kind of meaningless. So, I was so lucky to have the most incredible co-stars and amazing actors like Sydney and Elizabeth Marvel, who played our mum. Getting to star with them was probably the highlight for me.
What has it been like to release a show during Covid?
It's been really weird. I would never want to launch a show during a global pandemic again. I feel as if the amount of time I spent on Zoom is criminal. We finished the shoot on a Friday night and then on the following Monday, the lockdown in the UK started – so I was back here and straight away locked down. I haven't seen anyone since we finished shooting and the show came out! There was a billboard of our faces on Times Square, which any actor who says wouldn't want would be lying, so not being able to go see it has been very strange. Also, in the UK we don't have Hulu, so people here can't watch the show yet. Waiting to find out when the show is going to be on here is very strange.
What has the response been like from the US, where the show is already out?
The response from the fans has been incredible. It's been so kind, and they are so invested in the show. I feel so lucky and fortunate. You can't really control how anything goes, what critics are going to say, and what the reviews will be, but ultimately the people at home watching it, investing in it, and loving it is the most important thing and we've been so lucky with that.
L-R T-Shirt by Tom Ford at Mr Porter, Jacket Belstaff, Polo Michael Kors Collection, Trousers MR P, Shoes Lacoste
Why should people watch the show when it comes out in the UK, or now in the US if they haven't already?
Over the last few years, there's been so much Marvel content, and it's all been awesome, people love it, and it does incredibly well. This is a completely different corner of that universe. It's a horror show, for starters, but it's so grounded in these incredible characters. I think it's one of those shows that sort of has everything. It has real heart, it's funny in places that you don't expect, and is incredibly dark at the same time. There are amazing special effects. It's a whole new world for Marvel and people on the other side of the pond have really responded to it, so I hope it will be the same here.
Let's go back to the beginning of your career. How did you first get into acting?
It's not something I can really remember ever deciding on. It's always what I knew I wanted to do. It was more a question of making it happen. As soon as I figured out you could leave school and just study acting, that was what I wanted to do. I was lucky enough to get into the drama school I wanted to go to, and I spent three years there. Ever since I left, I have just been gunning for it and have been trying to keep my head down and just work. I'm always trying to become a better actor.
What would you love to work on in the future?
I've started writing in the last couple of years, so my focus has become really split on that now. Creating my own work and being in things I've been involved with since the beginning really excites me now. It is what I will be doing a lot more of in the future.
Jumper The Kooples
What would you say was the personal highlight of your career so far?
I'd be lying if I said that playing a superhero wasn't one of them, but there's been a lot of different highlights for a lot of different reasons. Sometimes it's not even necessarily about the job, but it could be the fact that you got to go somewhere you never would have been in the world otherwise. A few years ago, I did a TV show, which was shot in Paris for eight months with one of my favourite actors of all time, Jean Reno. We played a detective duo together and it was probably the most rewarding experience of my life to be in the presence of that sort of greatness. Getting to become mates with one of your heroes will be a hard one to beat.
How have you been keeping busy throughout this unusual year?
Considering I haven't much left the four walls of my house, I've kind of been working non-stop. I sold my first picture script to a production company about a week before I left to shoot Helstrom. I'd just started working with these people and then had to put everything on hold to shoot for the next six months. So, as soon as I landed back here, I was quite fortunate that while everyone was making banana bread and doing weird YouTube exercise videos, I was working. When I came out on the other side of that and things were finishing up with the script, I went straight into promoting Helstrom. This last little lockdown has really been my first time of doing nothing. I haven't gotten dressed out of my sweatpants since March, but I've been keeping busy while I've been doing that.
What do you have coming up next?
The plan is, pandemic permitting, to start shooting my script in the south of France in August or September of next year. Right now, the thing that I'm focused on is getting it all done. We have an incredible director and production team, so that's what's happening in the world for me right now. And, of course, I'll be waiting to hear whether there will be a season two of Helstrom...
Photographer Carlo Zambon
Editor and Stylist Jheanelle Feanny
Fashion Ass Sophia Pohlmann and Juliette Eleuterio
Grooming by Jon Chapman at Nylon Artists using Sisley for Men and Hair Rituals by Sisley
Interview by Cailin Klohk
Subeditor Primrose Jeanton
Location & special thanks to Fora Borough London