Vingt Sept
VS LOVES: Jude & Sam Valentine's Day Series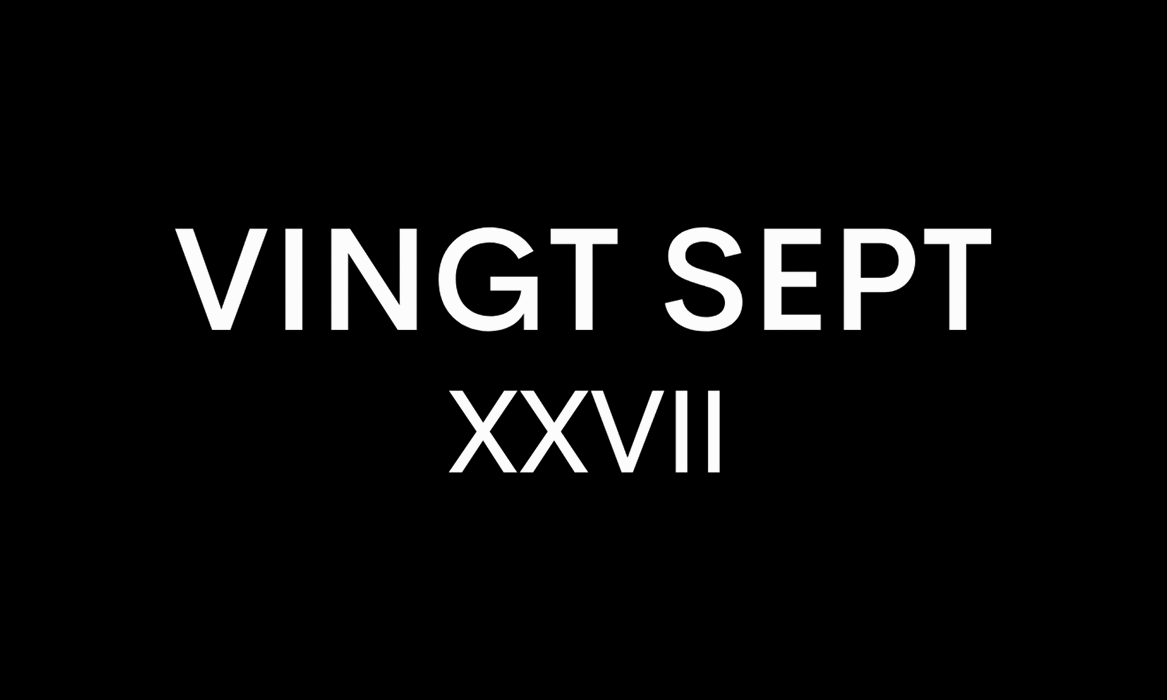 Lifestyle
Sam and Jude
For our VS LOVES Valentines series, we captured creative couple Jude and Sam in their Brighton home. This year, we celebrate dynamic love, moving away from gifting and hallmark cards following a challenging eighteen months.
Meet Jude, a trans and non-binary advocate who juggles work as a public speaker, consultant and model and their partner Sam, a voice-over artist and model who share their views on romance and what makes their relationship work.
This year Vingt Sept explores the lives of couples we feel exude 21st-century love.
How did you both meet?
Sam: Instagram! A photographer that I work with regularly shot Jude, so I asked who they were. Then over Christmas 2020, we started speaking and met up in January for a socially distanced walk down the Thames! Jude brought some lovely chocolate muffins with them, and we sipped flask coffee in the freezing cold for 6 hours!
What does LOVE mean to you?
For us, love is an action, not just a feeling. It's the ability to give to ourselves and the other simultaneously. It's having a friendship whilst feeling a romantic desire and having the ability to move through life together: learning, growing and supporting one another as individuals and as a partnership. It's always allowing the person the freedom to be who they are and embracing their joy and happiness. It's finding joy in the other's joy. For us, nurturing the relationship is important - date nights and weekly check-ins help us stay connected and aware of anything that comes up for us both.
What is your perfect date night?
Jude: Cooking together, having stimulating conversations, being cosy, watching a film and bonding through intimacy.
Sam: Getting dressed up, going somewhere with great food and live music, having a glass of wine, coming home, listening to my record player, slow dancing and getting cosy at the end of the night!
Share a little about your career; what do each of you do?
Jude: I am a trans and non-binary advocate, public speaker, consultant, influencer and model.
Sam: I am a model and influencer, a voice-over artist, a painter, and I'm going more into clothing design now too. I also walk doggos which is great for my mental health!
What brought you to your work?
Jude: I have always sought to share my insight as I've gone through my life's journey and what started as a journey of mental health recovery became a journey of rediscovery, where I truly realised my authentic self. I share my journey to 'becoming Jude' through all areas of my work, including modelling and influencing. It's been really empowering for me to rewrite the narrative of the discomfort I experienced in my body and to be able to advocate for more trans and non-binary representation in the world of fashion and beauty. I use my platform to raise awareness and further educate on trans experiences.
Sam: It was an accident! I was working in the NHS mental health sector when I joined Instagram to share my love for the vintage aesthetic and find others who had similar interests. One day a vintage-inspired brand got in touch, asking me to model (I was terrified at the idea of it). Since then, I've built up a portfolio, an Instagram following and several great relationships with brands. I recently signed with Another Mother and Nev's modelling agency, who Jude is signed with too!
Can you tell us a bit more about your career path so far?
Jude: My public speaking career started in 2012 when I worked with the Amy Winehouse Foundation. Over time I developed my skills as a public speaker and have since travelled to schools, businesses and organisations around Europe, working with children as young as seven all the way up to leading corporations such as Deloit on LGBTQ+ awareness, inclusivity, mental health awareness and self-esteem.
Then in 2019, I attended my first queer fashion show. For the first time, I saw trans people walking a catwalk. I was only two weeks out of top surgery, and I began to question whether the world was at a point to include people like myself in the industry. I was inspired by several trans models and had the intention to explore a career as a model. It was as if the world was listening as a casting agent reached out to me on Instagram, and I then was cast for a Harrods Beauty campaign. My tagline was 'my beauty is being myself', and I realised that that phrase described my experience so perfectly. Soon after, I worked with Vogue Italia and got a mother agent and an agent, who have helped me develop my skills and build a career in this industry.
Sam: Mine has been very topsy turvy! I wanted to be an actor, but my mental health was so unstable that I had to stop. I then got into the NHS to help others with mental health issues and joined Instagram on my mum's advice (who was a big fan of the then-new app). I used it back then as a visual diary - I finally started dressing in outfits that I loved, based on a period of history that I've always connected with on certain levels and found others who also loved the early 20th Century. I started developing my skills as a model after the shock of being approached by a brand. Eventually, I began offering modelling packages to vintage brands where I would source locations, style myself, do my own hair and make-up and organise the photographer to take all the stress away from the brand. Last summer, I released two dress designs with a vintage brand, they both sold out across seven sizes within 48 hours, so I'm planning to launch another in Autumn/Winter this year. I've also been diversifying my model 'looks' over the past year and was approached by my mother agent in October (2021). I then signed to Nev's Models in November!
What is the coolest aspect of your job?
Jude: I'm still coming to an understanding of who I am, and this industry is helping me to understand my style preference and helping my confidence grow. I've enjoyed learning about the industry, meeting new people… oh! And seeing myself in a magazine!
Sam: Being able to fully realise beautiful visions with brands and photographers and play with a diverse range of characters when I'm modelling.
Apart from each other, who inspires you?
Sam: Anyone who is authentically, proudly themselves, especially anyone who fights for the right to do so.
Jude: Couldn't have said it better myself! Sam and I share many similar values.
What is the one thing you both enjoy doing together?
Exploring and having adventures!
What is it like having two creatives under one roof?
I think we find it difficult sometimes to disengage from work mode because we're both passionate about our work and always want to help each other, but we do sometimes get lost in that, and all of a sudden it's 9pm and we haven't relaxed or spoken about anything else.
Do you have any advice about love and relationships for others out there?
Jude: I think continuously working on ourselves, and our mental health has helped us identify the ways in which we operate the relationship, what we need to work on, so we can meet our own and each other's needs. We're not afraid to take personal accountability if we need to. We have regular and sometimes weekly check-ins to communicate how we are feeling and how we can show up better for each other. Establishing strong communication has been vitally important for our relationship. We are not perfect, but we have a strong relationship because we are committed to personal growth.
Sam: I totally agree, and to add, I think it's been really important for each of us to pause in times of conflict, to acknowledge when a personal trigger from the past is clouding our perception of the conflict itself, and to communicate when that is happening. Being able to say, 'my rational brain knows this, but my emotional brain is telling me this has been helpful for us both when navigating how to deal with a situation and support one another.
Have you faced any barriers as a couple? If so, what were they, and how did you navigate through these?
Jude: We have faced barriers like most couples. We have identified some of our personal difficulties, whether that be with regards to our history or our current experiences. We have encountered some newer experiences in this relationship too. As someone four years into their transition, I'm still getting comfortable with my body and working on some internalised issues.
How do you support each other's work?
Jude: We often help each other when it comes to creative advice. It's beneficial to have a partner who is in the same industry. Sam helped me understand the world of influencing, introduced me to photographers, and someone I often bounce ideas off. We also often get to work together. She's not afraid of being ruthlessly honest, but I appreciate that because I often struggle with decision making.
Sam: Jude is a great hype person! They're so supportive of my modelling shots when I often second guess myself, and they're really encouraging of my painting too.
What is your definition of a power couple?
A couple that encourages each other to thrive on their individual paths, a couple that celebrates each others' achievements and doesn't feel threatened by the other's success, a couple that holds each other accountable, a couple that can come together and enrich each other's lives
What is the most romantic thing you have done for your partner?
Sam: I left Jude a surprise gift under the Christmas tree and organised for their best friend to lead them to it on Christmas Day because we didn't spend Christmas together. It was a Saint Christopher Pendant for protection and support on all Jude's adventures and engraved with 'Authentically Beautiful You.'
Jude: I took Sam up to my favourite waterfall in the Italian mountains. It took two hours to climb, but it was the best day we've ever had together. Sunshine, gorgeous views and butterflies surrounded us.
Sam wears a boiler suit from Zimmerman (available at The Outnet), and Jude wears a shirt and shorts from Ferragamo.
Photography & Art Direction Carlo Zambon
Fashion & Creative Direction Harriet Nicolson
Videographer Ronan O'Loughlin
HMUA Zac Campbell-Muir
Editor & Interview Jheanelle Feanny