Vingt Sept
Editorial: Malcolm Kamulete on Champion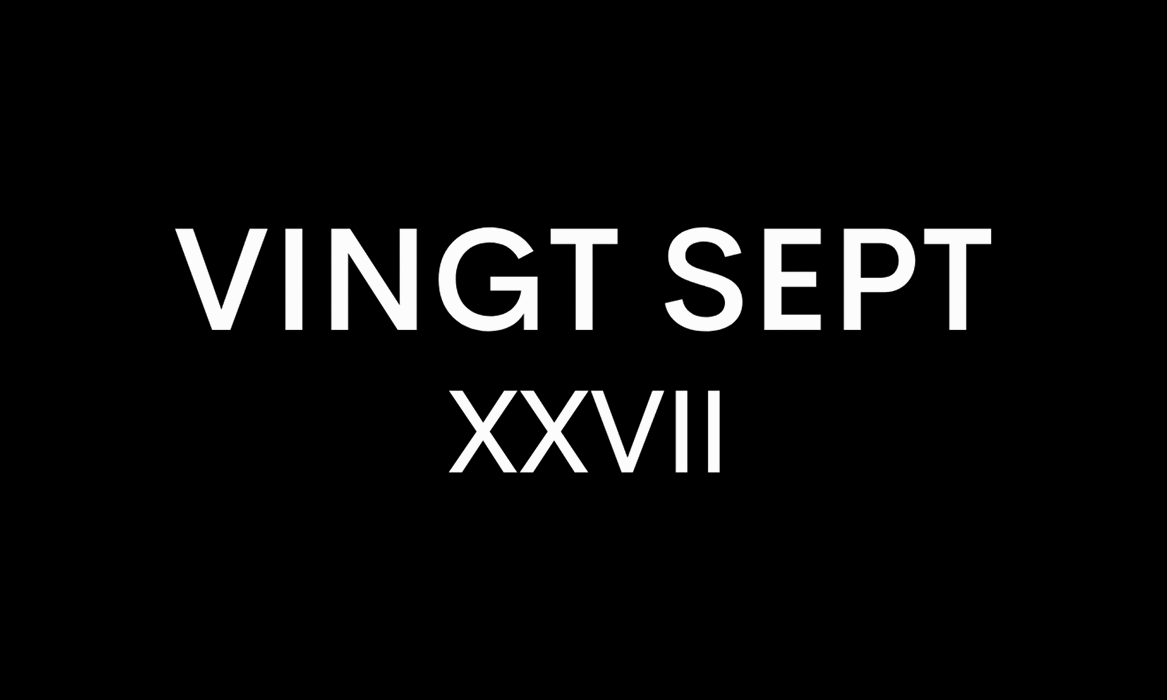 Film
Suit Daily Paper Shirt Oliver Spencer Shoes Manolo Blahnik
Malcolm Kamulete is a talented British actor who has captured audiences with his impressive body of work that includes features in Top Boy, Ill Manors and this summer with his portrayal of Bosco Champion in the new BBC drama series Champions.
Bringing Queenie author Candice Carty-Williams' vision to life, this 8-part series is sure to be a conversation starter, exploring the themes of rap-royalty in the black British music scene whilst untangling the dynamics of sibling rivalry, Champion is a breath of fresh air to our television screens.
With natural charisma and compelling acting skills, Kamulete has brought the character of Bosco to life, and it is no surprise that the trailer has amassed such interest already earning the actor critical acclaim and a legion of fans before its release date. In this interview, we'll dive deeper into Malcolm's experience playing Bosco and learn more about his journey as an actor.
How did you get into acting and what was your first audition?
I was in the midst of pursuing other dreams when the opportunity to act presented itself to me. It happened in such a way that I felt it had to be my calling.
My first ever audition was an open casting call through my drama class for Plan B's film Ill Manors. I'd initially got a role as an extra in the film and with the help of my drama teacher at the time (Marnie Crymble), I found my next audition months later. The rest was history from there.
Jumper & Trousers Daily Paper Trainers Nike
What was the most challenging aspect of your role in Champion?
The most challenging aspect of my role was being able to channel the mental rollercoaster that is Bosco's journey. Finding the qualities in that journey that felt believable to me was personally important, as I'd not experienced a lot of what he had to go through as a person. For me, it was extremely important to show his vulnerabilities in a way that the audience could draw strength from, especially as there are many people like Bosco, who suffer with unidentified problems and don't know how or who to express these to.
Can you tell us about the casting process for Champion?
It was a really enjoyable experience and definitely gave me a new sense of understanding of who Bosco really is. Every time I'd audition, I felt like I knew him a little bit better than before.
The length of any casting process is always going to be tough at times because there is a lot of waiting… and hoping. It also took place during the lockdown period which was indeed a very tough time for us all. I think this helped in creating a tight-knit community and comforting environment in a short space of time which in-turn gave Champion a close 'family feel' before we even reached the set!
Were there any stand out moments or specific memories you look back on from the set of Champion?
The standout moments happened more or less every day for me. There was always something to laugh or smile about without fail. Every single day was a great vibe with even better people! I wouldn't change that experience for anything.
If I had to pick one experience in particular, it would definitely be one of the last musical performances Bosco had in the show with Rusty. Although it wasn't a sold-out venue for real, every time I got on stage it felt like it was! I really enjoyed bringing Bosco's musical talent to the big screen.
You've also been in Top Boy, did you anticipate how successful the show would be today?
I was quite young when I played the role of Ra'nell in Top Boy, so the potential success of the show was never in the forefront of my mind. I enjoyed the experience and I'm still grateful and proud that I got to play a part in such greatness. However, I think I was too young to really measure success back then. I'm honestly still taken aback today by how well-received the show is globally!
Suit Oliver Spencer Shirt Connolly Shoes Manolo Blahnik
How has your cultural background influenced your approach to acting?
It's influenced my approach to acting in many ways! I grew up in an African household; everything from the food, to the music, to the language, had personality! I also grew up around a lot of big characters within my friendship groups. This somewhat allowed me to polish my emotional intelligence and become more socially aware over time.
My experiences growing up shaped my trail of thought and the constant challenges thrown my way, made me a better person both on and off screen. I draw inspiration in a lot of these influences in my portrayals of characters because no one person is the same.
If you could play any historical figure in a film, who would it be and why?
If I could play any historical figure it would most likely be Thierry Henry… maybe Allen Iverson too. It's hard to pick just one because I have connections to them both for different reasons.
I'd love to play Henry because he was simply one of the greatest footballers of all time and was so humble about it! I admired his approach to pressured situations by remaining very calm and cool. I feel Iverson very much changed the game of basketball and stays true to who he is whilst creating his own lane. That is something I hope to emulate in my field too.
What are some of your favourite books or authors, and how have they inspired you?
I have two favourite books and loads of favourite authors; the list is endless with regards to that! The first book is called The Four Agreements by Don Miguel Ruiz and the second is The Alchemist by Paulo Coelho. These two books have inspired me a lot over the years. I read all types of genres but I most enjoy books about self-discovery/self-development. It's a great way to open the mind, challenge the psyche, develop new ideas and ultimately grow.
How do you prepare for emotionally intense scenes as an actor?
The preparation for intense scenes are quite intense to say the least but vary depending on the scene at hand. I more, often than not, attempt to plant myself as close as I can to each character mentally and try to embody whatever emotion they should be feeling in those moments. I'd liken my overall approach to method acting because it comes from a learned place of experience, whether that be first-hand or second-hand.
What advice would you give to aspiring actors who are just starting out in the industry?
I'd say having self-belief and confidence are the main keys when pursuing a craft such as this one. It all starts with self! Also, it may seem harsh, but I would say get accustomed to rejection as early as possible because it is part and parcel of this job unfortunately! Especially if you're 100% sure acting is what you want to pursue. It is a really tough, competitive environment to be in and preparation for that is important.
Shirt & Trousers Oliver Spencer Driving Goggles Connolly
What's one lesson you've learned from a role that has stuck with you throughout your career?
One of the greatest lessons that I have learned is that 'I am only able to change what I can control'. This became much easier to focus on over the years as I learned to block out the noise. I feel as if it helped me understand that what is meant for me will be and what isn't will not.
Another lesson that I am honestly still learning the value of is, what you put in is exactly what you get out. Enthusiasm produces far better results than dragging your feet! With that in mind, I always try my best to give 100% effort towards any role I play.
If you could work with any director or actor, dead or alive, who would it be and why?
If I could work with any director it would be Martin Scorcese or John Singleton. If I had to pick an actor it would be Denzel Washington, Stephen Graham or Angela Bassett. I think it's pretty self-explanatory why I couldn't pick just one for each category as each of these individuals are very much gifted at their crafts and are all so uniquely talented! I've grown up influenced by all of their work in some way, shape or form, so it would definitely be on my bucket list to work with any of these guys (hopefully all).
What's one thing that you're passionate about outside of acting?
The thing I'm passionate about most outside of acting is music. I'm also a very big football fan - Arsenal FC to be precise! For me, these two go hand in hand. I'd definitely say music though as it's my second craft and I actively pursue it. I'm constantly writing new ideas and creating vibes in the studio. I hope to release something sooner rather than later.
If you could switch lives with anyone for a day, who would it be and what would you do?
If I could switch lives with anyone for the day it would probably be the Arsenal manager, Mikel Arteta. I would try and sign all the best players I possibly could in 24 hours and give (Bukayo) Saka a 10 year contract!
Alternatively, I'd also like to be someone in power… like a president. I could then make some impactful changes like fixing the current monetary system, ending homelessness, the cost of living crisis, or abolishing tax and things of that nature! I'm sure the people would love me as their next president for that alone.
Suit Daily Paper Shirt Oliver Spencer Shoes Manolo Blahnik
Aside from film and TV roles, what other interests do you have?
I take interest in many other things such as sports, music, quality time with family and friends, art, galleries, good food, fashion, books. I'm well-read and like to research a lot to make sure I'm constantly learning. As a creative it is very easy to pigeon-hole yourself as being just one thing, when we have a whole life outside of it that's worth exploring and living.
What can we expect to see from you for the rest of 2023 and next year?
Well… you can expect greatness! You will be seeing a lot more of me that is for sure!
You can also expect an amazing eight-part musical drama called Champion and one or two other great projects in the works. You can also expect to see some music from me soon. I am looking forward to what will be a very successful year in my book!
Champion is out on the 1st July on BBC One
Photographer Joupin Ghamsari
Fashion & Editor Jheanelle Feanny
Fashion Ass Paula Salinas
Grooming Natalie Jibeili at Proper Represents