Vingt Sept
Lara Peake talks social media, sex work and why BBC Three's MOOD is one to watch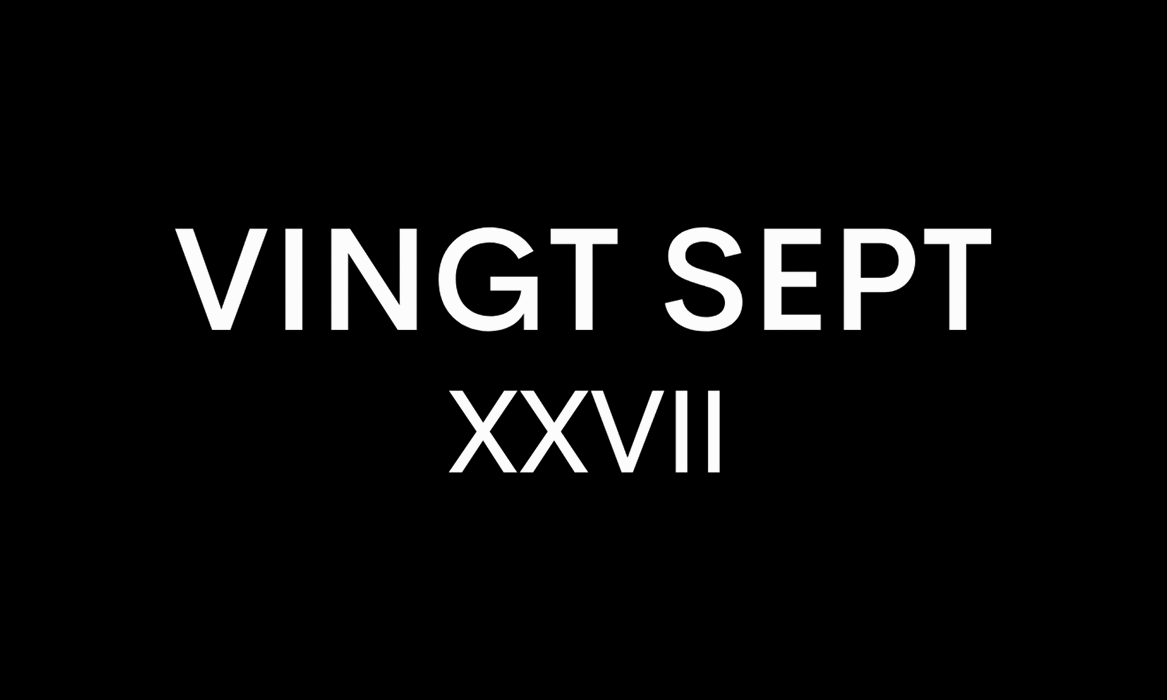 Film
British actress Lara is best known for playing Chrissy in edgy, cinematic drama Born To Kill and Betsey Cronshaw in Netflix's The English Game.
This spring, she returns to screens in BBC Three's much-anticipated six-part TV adaptation Mood. Originally a one-woman play by Nicôle Lecky, Peake will play Carly Visionz, a young, savvy woman navigating her way through social media's seductive and sometimes dark world.
Dubbed by journalists as the 'British Euphoria', we couldn't wait to sit down with Lara to talk about her role as Carly and the important messages Mood portrays about how we use social media today. Tackling issues in sex work and mental health, Mood is most definitely a series that will leave you begging for more.
Hi Lara, great to meet you! What can we expect to see from Mood? Can you explain what the show is about?
The show follows Sasha (played by Nicôle Lecky), who goes on a journey through meeting my character Carly, navigating social media and online sex work. It's daring, funny and unflinching, and there are some real laugh and scream-out-loud moments.
There's an original soundtrack, too, which spans pretty much every genre of music - it's mega.
What can you tell us about your character Carly?
Carly is a social media influencer who, through a chance meeting, invites Sasha along to a party. On the surface, she's fun, loud, outgoing and very impulsive. But ultimately, she's problematic and very vulnerable. She's somewhat lonely when we first meet her and needs her friendship with Sasha more than she lets on. Although she's manipulative and grooms Sasha for this crazy world, I don't think it's entirely conscious, and it's just inherent in her to lie her way out of trouble. She wants someone to join her on her own journey, and that happens to be Sasha, who she genuinely loves - just not in the healthiest way.
Are there any similarities between you and her?
Hardly any! I'm not big into social media, and I rarely even get my nails done. That said, though, the process of transforming and stepping into Carly was incredible and addictive; being glammed up every day is something I low-key kind of miss.
Carly seems like a shallow influencer on the surface, but is there more to her than meets the eye?
She can be mean and calculated, but I guess my question is, 'why is anyone like that?'.
Nicôle Lecky and I discussed Carly's backstory a lot; what her childhood looked like, where she grew up, the sorts of encounters she had at a young age and even what her real name is - that all fed into Carly Visionz. But she does care a lot, and I think she genuinely believes that she is doing the best for Sasha. The problem is, Carly's solutions to bad situations make things a whole lot worse, and before you know it, she's in really deep.
The show deals with some complex themes like social media and sex work. How did you prepare for the role?
I listened to many podcasts and explored sites like Onlyfans and Seeking Arrangements. I had an account on there for a while in a different name and chatted to people, giving me huge insight into the world. I followed a lot of influencers on Instagram too, and binged reality shows to study voice and movement. I also made a load of playlists with a couple per episode to help me feel a certain way. I always find that I connect best with a character through music.
Did you speak to any people who use Only Fans or who are influencers? How did you research the role?
They spoke to me anonymously, and we talked about the toll the work can have on you mentally. Money is a big incentive for people who use OnlyFans, so there's a discussion to be had about whether it's something people feel empowered by or turn to in times of need. There are a lot of problems and dangers with sex work that we should be mindful of, but also, there's the argument that people are in every right to do what they want with their own bodies if they feel safe and want to do so. I listened and respected their experiences, but it's something I've never tried, so I will never have a true understanding of it. I think people deserve respect regardless and should not be judged on something they themselves choose to do if it's not hurting anyone else. There's a huge stigma to it, and it's about having respect for someone if you're paying for a service, which many people still don't have.
Was it draining to immerse yourself in that world?
I guess at first it was. I was delving heavily into the darker side of Carly's personality and questioned to what extent she felt empowered or exploited by her job. But Carly is a big fun personality on the surface, so I was in quite a hyper mindset a lot of the time, gearing myself up for scenes and getting in a similar zone to her. Everything is an opportunity with Carly, and to her, everything should be fun; otherwise, what's the point? That said, I'd be exhausted by the time I got home and into bed, and I'd usually pass out in the car home.
Music plays a huge part in the show – why is there such an emphasis on it?
Sasha dreams of being a singer more than anything, so when she meets Carly, she feels as if her dreams are being side-lined. Nicôle Lecky's soundtrack is amazing, it spans multiple genres, and the music goes on a journey with Sasha.
It's an expression and commentary on the things she's experiencing, and navigating how you add original music to a drama without it becoming a musical must be a considerable challenge. I think they've managed to execute it seamlessly, and it's something I'm really excited about for audiences.
Some people have compared Mood to shows like I May Destroy You – how are they similar or different?
I think it's an enormous pressure to have a show compared to something so highly acclaimed and well-executed. I think I May Destroy You is a masterpiece, but Mood is a totally different show.
The music is probably the most significant difference as it plays a huge role narratively and drives the story forwards, so I'm excited to see how people respond to the songs that sort of creep up on you. You hear the song gearing up over some of the scenes, and, story-wise, I think they're at points where you're really ready to hear what Sasha is thinking and has to say.
What's your relationship with social media like?
I don't have Twitter, Facebook, Tiktok or any of the other platforms. I stick to Instagram, really. My relationship with social media is up and down, and I tend to go through phases of posting a lot and then nothing at all for months. Some days I'm in camp 'pro-social media', and other days I want nothing to do with it.
There's a lot of positivity being spread online, and people can gain light relief in the humour that exists on social media, but I wonder how balanced the scales are now in terms of the cons of social media. The trolls, cancel culture, our comparison of other peoples' lives to our own and procrastination scrolling are all the dark side of being online. We're becoming so reliant on it, and I think we'll become even more so in the future. When I'm online, I enjoy being active and seeing what my friends are up to, but I'm equally aware that there are a lot of posts on there from people I don't know or follow, so I try to stay mindful that they may not be what they appear.
The show is an accurate commentary on young people and their desires to be famous – what's your take on that?
Carly wants to be famous, for sure, but I'm not sure it's all she wants and the same with Sasha. I think what genius about Nicôle's writing is how she has managed to explore so many topics in her scripts that are in real need of a wider conversation. Carly talks about fame in episode three and how she'd be fine coping with the pressures of being in the limelight. But again, I think the topic of fame comes back to social media; everybody has a space to say something and be heard online. Whether it's a conscious or subconscious thing, I think it's more about people wanting to be well-liked, appreciated, and heard.
It also explores the whole Instagram vs Reality situation that the world is experiencing – do you think it's harmful or just fun?
Some of the influencers and models I followed on Instagram for research during the shoot speak quite openly about the fact they edit and retouch all of their posts. Which I think is pretty refreshing, especially for younger audiences. It becomes dangerous and harmful when we start changing ourselves and our bodies just to match a 'perfect Instagrammable' body type with thousands of likes.
Carly has a flawless Instagram with thousands of followers and likes, but we get to see Carly for who she really is and when she meets Sasha: she's actually pretty lonely and in need of real connection.
When you're not filming, what does a day in the life of Lara look like?
It depends where I am! If it's Manchester, then a long walk, a stop off at the local brewery for a sour beer, then dinner in the evening. If I'm in London, I feel the pace a lot, which I actually love, and so I'm keeping myself busy, working, writing, going to gigs and hanging about in East London.
Where do you hope your career goes?
Honestly, wherever it takes me. I'm excited by change and new experiences. I want to keep learning and challenging myself with every role. I love theatre, film and TV so I would be grateful to have the chance to do all three in my career. But on the whole, I love meeting new people on every job, so I hope to keep working, meeting great people, and seeing new places.
If you weren't acting, what would you be doing?
I'd work in charity, I think. I want to make positive change, but there's more than enough room to do both.
What's next for Lara?
Back to castings, meetings and working out the next move, I guess!
Mood is out now on BBC Three and BBC Iplayer