Vingt Sept
The Essential Paris City Guide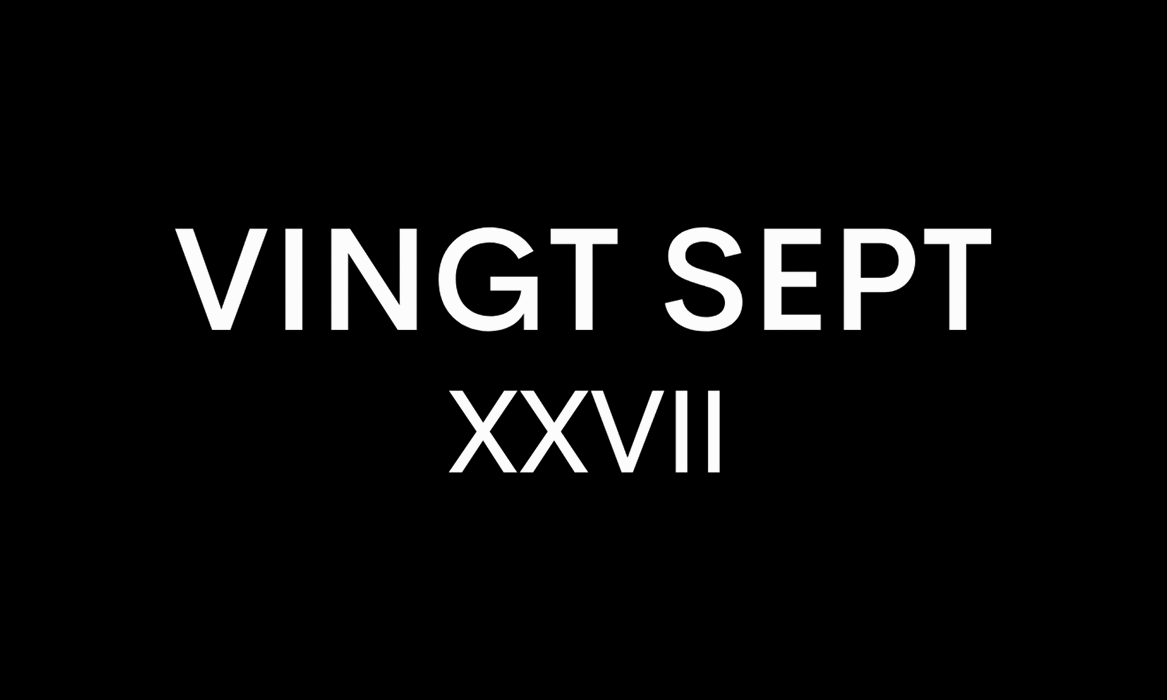 Photography by Léo Bouhnik
As the famous saying goes, Paris is always a great idea.
This year we explored some of the City of Light's most precious gems for a unique getaway guide, perfect for those seeking a little history, romance or preferring a slice of luxury.
We start our trip with a seamless journey from London to the Gare du Nord via the city's most efficient train - the Eurostar. This summer travelling between both capitals is a fast and comfortable way to start a wonderful romantic experience.
It had been a minute since we last used the Eurostar, but we were relaxed with zero baggage restrictions and its impressive and most importantly short journey, with beautiful scenery along the way. Sit back with your fresh coffee and take in the rolling countryside of Kent and stunning views of the English Channel.
Once you arrive in Paris, there are endless romantic activities to enjoy, such as taking a stroll along the Seine River, visiting the Eiffel Tower, indulging in delicious French cuisine, and exploring the Louvre Museum.
The Louvre - Immerse yourself in history's secrets
Beginning its life in a 12th-century fortress, and built by Philip II, today the Louvre is the most visited museum in the world.
Photography by Mika Baumeister
Boasting the largest collection of art that includes sculptures and antiquities following its acquisition by the Revolutionary government, it is difficult to not spend hours soaking up the diamonds of the past.
To date, there are over 480,000 works inside the museum. It is rumoured to take 200 days for a visitor to attempt to see almost everything if you stare at each piece for 30 seconds. Its collection includes fifteen Da Vinci paintings and, of course, the Mona Lisa.
Some key tips:
When visiting, arrive at least 1-2 hours early, this is due to the many security clearance points. If (like us) you have your luggage, do not worry, there is a sizable and high-tech cloakroom that is free of charge.
Wear light clothing and avoid bringing unnecessary items on your trail as the museum is 9 miles in total and you may get lost!
Use the map of the Louvre to plan the works you wish to visit as the collections are displayed over five levels at each base corner of the pyramid (if lost return to the point of the pyramid).
Photography by Daniel Gregoire
There are three wings, and the Denon Wing is where you will find the Mona Lisa. Sully is where you can explore Egyptian, Greek and Roman antiquities, including the ancient Greek sculpture, Venus de Milo, and the Great Sphinx of Tanis (one of the largest sphinxes outside of Egypt).
Outside of the museum's historical momentum, the Louvre also boasts partnerships, one of which is a 4-year effort with the brand Uniqlo. The partnership includes a fashion collection where the release of more Louvre-inspired items is yet to come.
Photography by Federico Carionati
For more information visit Louvre Museum
Hôtel Plaza Athénée - Immerse yourself in one of the city's Romantic Palace Hotels
Hôtel Plaza Athénée is more than an institution in the city of lights. Although younger Gen Z's will recognise the diamond of the Dorchester Collection from Netflix smash Emily In Paris, those a little older will value its historical majesty, distinct aesthetic, and architectural grandeur.
With a view of the Eiffel Tower on one side and the Champs-Elysee on the other, the hotel is the epitome of Parisian elegance in the chic 8th Arrondissement (the golden triangle). Located on Avenue Montaigne (formerly known as Allée des Veuves (widows alley) where women used to gather while mourning, the location today is home to prominent brands including Louis Vuitton, Céline, Saint Laurent, and Chanel.
The hotel itself is said to be the very spot that inspired haute couture designer Christian Dior to launch his own couture house on Avenue Montaigne, and where dancer Josephine Baker, Jackie Kennedy, and Grace Kelly often stayed.
The hotel's amenities are nothing short of extraordinary, starting with the gym which boasts stunning views of Avenue Montaigne. Whether you're an avid fitness enthusiast or just looking to squeeze in a workout during your stay, this gym will have you feeling inspired and motivated.
The Dior spa is another must-visit. The spa offers a range of luxurious treatments designed to pamper and rejuvenate your mind, body, and soul.
When it comes to dining, there is something for everyone. The Jean Imbert restaurant offers a taste of ancient French gastronomy, while La Galerie is the perfect spot for a leisurely breakfast, light lunch, afternoon tea or pre-dinner drinks. In the summertime, La Cour Jardin offers a seasonal plant-based menu in the hotel's picturesque courtyard. And for those who love to dine with a view, La Terrasse Montaigne is the place to be.
Last but not least, Le Bar is a modern and sophisticated spot where you can unwind with a cocktail or two. With a Dom Perignon cellar and a chic atmosphere, it's the perfect place to end your evening.
Hôtel Plaza Athénée is the perfect choice for a summer escape to Paris, offering a luxurious and unforgettable experience in one of the world's most beautiful cities. Experience the ultimate in Parisian sophistication and indulge in a world of timeless beauty and impeccable service fit for royalty.
Rates start from €2,200
Hôtel Plaza Athénée
Address: 25 Av. Montaigne, 75008 Paris, France
Phone: +33 1 53 67 66 65
Visit HERE for more information on our stay
Photography by Léo Bouhnik
Le Meurice - Enjoy a Spa day and dine like royalty
Salvador Dalí, Ginger Rogers, Elizabeth Taylor, and Richard Burton - what do they all have in common?
Perhaps Le Meurice in Paris. Each spent many days here, and if the gilded walls of this prestigious hotel could speak, we are sure that the many tales would keep us on our toes.
One describes surrealist artist Salvador Dalí (a frequent resident) demanding a herd of sheep being sent to his room. It's no surprise that Le Meurice's restaurant of the same namesake is a tribute to their most outlandish guest.
We were privileged enough to immerse ourselves in some of the grandeur of Le Meurice with a spa day at Valmont and a unique culinary journey at their iconic Le Dalí restaurant.
The spa itself is welcoming; with an otherworldly feel as if you are submerged underwater but surrounded by crystal glaciers.
It is truly the best spa experience for those seeking something beyond a traditional spa and needing rejuvenation with spiritual alignment.
The dining experience at Le Dalí is unforgettable. From the moment you step into the restaurant, you are transported into your very own Salvador Dalí painting. The high ceilings adorned with motifs by Le Meurice designer Philippe Starck's (known for iconic work for Baccarat, La Almazara and Hudson Hotel NY) daughter Ara Starck created an immersive environment that distorted reality in a way that paid homage to Dali's surrealist art.
Le Meurice
Address: 228 Rue de Rivoli, 75001 Paris, France
Phone: +33 1 44 58 10 10
Visit HERE for more information on our stay
Photography by Léo Bouhnik
Madame Brasserie Eiffel Tower - Dine with priceless views
When Gustave Eiffel unveiled the Eiffel Tower in 1889, we wonder whether he knew a century later it would house remarkable dining experiences for those visiting Paris - one of which is Madame Brasserie.
Madame Brasserie, located 57 metres above ground on the first floor of the Eiffel Tower, is a hidden gem for those looking for an unforgettable experience in the city.
Offering priceless views of the arrondissements of Paris and, of course, a chance to beat the queues and dine inside the iconic landmark, it's a truly unique and unmissable place, so what are you waiting for?
The menu features French cuisine with a modern twist, using only the freshest and highest quality ingredients in the country.
In addition to the fantastic food and breathtaking views, Madame Brasserie offers impeccable service and a relaxed yet refined atmosphere. Whether you're celebrating a special occasion or simply looking for a romantic dinner with your partner, you are sure to lose yourself in the 360 panoramic views, with the River Seine on one side and Versailles on the other.
At Madame Brasserie, you'll enjoy a dining experience that is as stunning as the views from the Eiffel Tower. The menu is a true celebration of French cuisine, prepared with passion and creativity by one of the city's most talented chefs.
Madame Brasserie located in the Eiffel Tower
Address: Eiffel Tower, 1er, 75007 Paris, France
Phone: +33 1 45 55 20 04
Visit HERE for more information on our stay
Photography by Léo Bouhnik
Mama Shelter Paris West - A place to feel like a true Parisian
When visiting the city of lights, most explorers stay in familiar areas with monuments and luxury stores - but what about exploring the real Paris?
Mama Shelter West is a trendy and stylish hotel located in the 15th arrondissement of the city - it may seem unconventional, but there is more to Paris than the Louvre. The area is home to over forty picturesque parks, gardens, squares and boulevards; for example, Parc Georges-Brassens (named after the French musician and poet) is perfect for romantic strolls with your beau.
The hotel is also very close to the Porte de Versailles Exhibition Centre, where a host of exciting events take place throughout the year.
If you're seeking a sexy weekend in the city, you won't be disappointed; Paris West's unique and playful atmosphere is perfect for couples or solo travellers looking for an injection of fun and a memorable stay.
Mama Shelter Paris West
Address: 20 Av. de la Porte de la Plaine, 75015 Paris, France
Phone: +33 1 70 94 14 00
Visit HERE for more information on our stay
Words by Jheanelle Feanny