Vingt Sept
The Rookies guide to Val d'Isère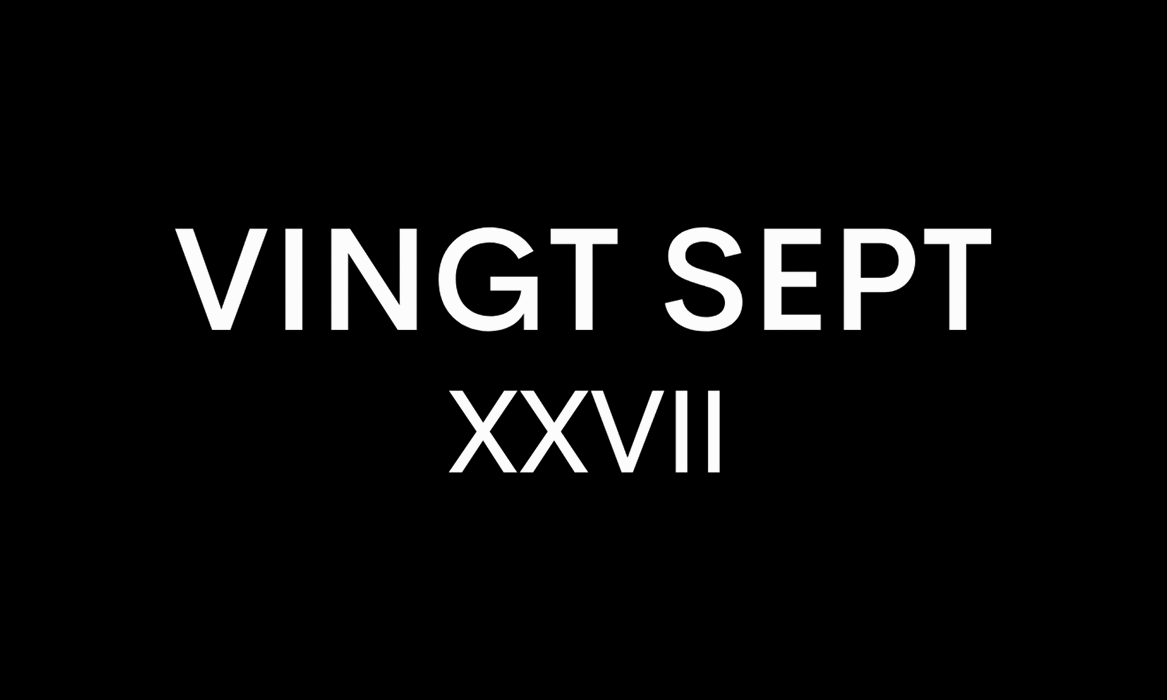 Travel & Lifestyle
The essential ski guide to Val d'Isère
Our editor grew up in inner-city Birmingham with nothing but a historical dry ski lesson (circa 2015) under her belt. So with zero experience in one of the world's best ski resorts and with a group at expert level, she had to navigate the slopes and town of Val d'Isère 'rookie style'.
Val d'Isère, Val d'Isère, Val d'Isère, why are you so charming yet so tricky at the same time? Living in East London, the pace is a little laissez-faire, where you can even pop to the corner shop in your PJs with a coffee in hand. Yet, everyone here seems to not only be at the top of their ski game but also their fashion game. And don't let me start on the kids who appear to have been passed down the bambino family skis in utero.
So what's a city girl to do, when abandoned on the ski slope on day 1, being told: "you'll really hurt yourself, maybe walk around and see who's doing a lesson" (queue 'no shit Sherlock') - she calls another editor from another magazine, who let's face it, is the king of the slopes.
So to avoid the shame of being the weakest link in a top 5 ski resort, see my rookie's guide, covering everything from getting there, how to fit in with the high fashion crowd, and enjoy all of the gems this village has to offer.
Getting there
There are so many flight routes to nearby Chambery and Geneva Airport to get to Val D. I chose Geneva because, hey, Darling, the Swiss, knows how to charter regular flight routes from London.
In just under an hour and a half, expect to be in Geneva Airport with a smooth landing, but beware, you cannot drink on the flight. Our attendant almost threw off a 'LADS on tour' group with beer before takeoff, so yeah, respect the rules.
After a swift landing, there's a 3.5-hour commute to the beautiful village of Val d'Isère. We made this bearable with 'guess the song,' where the driver even got involved... If you give a smile, you may also get a few toilet breaks too.
Where to stay
As I was luckily staying with a group of 14 people, our lush accommodation was pretty much sorted (shout out to Dan!).
Staying at Chalet Appaloosa (a mere 5 minutes from the buzz of the town), expect four floors of privacy, a jacuzzi, private hammam, with each room boasting private balcony access to views of the piste.
Check out Snow Eagle (Hotel Aigle des Neiges) for those looking for a little luxury style. The 109 room hotel features an igloo-style fireplace, a spa, and concept dining. Hotel Altitude is also an excellent option for those wanting to be closer to the slopes and boutique stores in Val d'Isère. It has swanky chalet-chic rooms and plenty of fine dining experiences.
Ski Equipment
It's best to sort this out before arrival. However, there are ski hire stores aplenty in Val D. Check out the affordable and accessible SPORT 2000 ESKIADOR, where you'll find excellent service and a store guy who looks suspiciously like Patrice (the foreign exchange student) from British classic The Inbetweeners.
The store is so great, they swap your skis at no extra charge, if, like me, your instructor tells you, you need adolescent skis (hahaha).
Sorting out the actual skiing part
Yes, so as I mentioned, I was left on the ski slope as the experts took on the reds and blues, but all hail Josh who suggested the uber of ski instructors, SKIBRO.
Skibro, invented by an Irish couple and their mate, is sure to be everyone's friend when looking for a great instructor within reach and, most importantly, your price range.
The app was created for those new to the ski game who want a stress-free process when finding the right instructor. So type in your filters, e.g., your ski resort, language preference of instructor (etcetera etcetera), and the options are bountiful with an easy booking process.
Charles B stood out for me, and with 17 years of teaching experience, fluent English, and stellar reviews, how could I possibly go wrong?
My ski instructor was the creme de la creme of ski instructors. Super patient and even taught me how to do my snakes (turns) and a parfaite snowplough. But then again, I found out he comes from ski royalty, as his uncle was an Olympic Gold medalist in the 60s - so it all makes sense.
To book Charles or use the lifesaver that is Skibro see info below.
Charles Bonlieu
SKIBRO
Après All Day
For those new to the game, Après is pretty much the main event in Val d'Isère. See some recommendations below.
La Folie Douce
Cocorico
Located suspiciously next to the nursery is Cocorico, a musical extravaganza with reasonable price points for alcohol. Opening from 4pm (after the parents pick up the bambinos), the colossal club turns into a live music venue and fills up quickly, so be sure to arrive early to avoid disappointment.
There's a beer happy hour from 4pm, and a prosecco for the ladies will set you back an affordable six euros.
The vibe is excellent, and a mix of age groups, with classics such as Oasis' Don't Look Back In Anger and Eminem's Lose Yourself on the menu.
Cocorico Après Ski - Val d'Isère
Adresse : Pl. du Rond Point des Pistes, 73150 Val-d'Isère
Téléphone : 04 79 24 60 04
La Folie Douce
I've been to some raves in my time, but, holy moly, Folie Douce is something else and a must for the bucket list if in town.
Every Wednesday from 2.30pm is their WTF event. You can expect everything from a man looking suspiciously like Maleficent busting out Mario's Let Me Love You to an EDM beat and other costume-wearing, highly skilled dancers 'pumping up the jam'. It is like nothing my retinas have ever witnessed; I almost believed I somehow ended up in Mario Kart or became part of a rave computer game, but it was well worth the visit. Make sure you get the last ski lift before 5pm, though, as a fellow Après-er needed the rescue service to get back down - and believe me, there is nothing cute or cool about having someone on skis drag you down the piste in full view of those expert skiers.
La Folie Douce Val d'Isère
Address: Télécabine de, 73150 Val-d'Isère
Phone: 04 79 06 07 17
Dressing the part
Val D is far more fashion-centric than London or Paris, so ensure you are prepared for this crowd. Like a David Attenborough documentary, the men appear to be 'peacocking' - a term used out here to grab the ladies' attention. So expect guys in traffic light ski trousers while the women wear their classic Chanel ski suits and Moon Boots.
These are your Ski Essentials, some of which are editor-approved!
I Am Packed - before leaving for the airport make sure you pack the below:
Ted Baker mini case
Polaroid Camera
Goggles
Scarf
Jumpers
Ski Lights
Eyewear
Gloves
Trendy hat
Boots
Although the sun is shining (you may spot some unfortunates with a little sunburn), packing warm yet stylish ski attire is essential.
Icelandic brand 66°North are experts when it comes to outerwear for over a 100 years. So whether you're looking for ski lights, something a little heavier, and most importantly fashionable, check these guys out.
Our recommendations include their pretty in pink, snow down jacket, perfect for the slopes and après and their contemporary take on what one may call a more modern ski trouser.
The perfect knitwear to break away from the Val D norm, yet iconic enough to attract the right attention is this edgy-preppy number from Gyles and George.
I also packed some cute numbers (including a nostalgic Babar the Elephant cozy) by Rowing Blazers. Founded by Jack Carlson who has an impressive CV, being an Oxford-educated archaeologist, former member of the U.S. national rowing team, and World Championships bronze medalist, Rowing Blazers is a touch of nostalgia meets high fashion.
Forget that boring travel case darling, it's all about sleek and sophisticated carry-ons, and our number one selection comes from Ted Baker. The Albay cabin bag oozes style with rose gold detail. This sleek soft-sided luggage solution will have heads turned from the airport, plane and those transit commutes. Did I mention how lightweight this lifesaver is too?
Izipizi is my number one goggle essential, arriving in many colourways and with a comfy adjustable headband, they are both functional and attractive.
Men's coat by 66˚North
Dining
The restaurants are plentiful here, and I must stress, if peckish, you need to book in advance by ringing the joint (at least 48 hours ahead).
For an Italian fine dining experience, try La Cucúcina, La Folie Douce's newest offering. Set in the mountains and almost 2000 metres above sea level, the restaurant is a focal point for the best views of the Alps.
Background/Backstory
Since opening in the 80s, La Folie Douce is probably the best spot in town for après-ski, but away from the party, La Cucúcina offers guests something a little tranquil but with an edge.
The venue started by Luc Reversade in Val d'Isère now has eight locations in the Alps. Yet, like me, you may see Luc and his family at work instead of relaxing on the slopes, a true nod to the family-run business's individuality.
When arriving on the ski lift, the energy of La Folie Douce just permeates; there is not a single frown or inch of fatigue in sight. It's truly a happy place; Luc and his family must be very proud of the institution they have created for themselves and those lucky enough to visit.
It is a place where you'll see all generations come together enjoying the delights of the Alps, where even children get involved; they are often spotted near La Fruitière dancing on tables with their parents.
Today each La Folie Douce is home to La Veranda, where people are seen dancing and living their best lives. Here, other great restaurants include The 'Self Service' area (La Petite Cuisine), where diners can grab a healthy bite, The Butcher's Shop (that I hear sells up to 1400+ gourmet burgers each afternoon), the aforementioned La Fruitière, Les Three Caves and the newest offering La Cucúcina.
The Self Service Area at La Folie Douce
Each part of the puzzle of La Folie Douce runs like a military operation to ensure the maintenance of the high-quality service they're known for.
Early each morning, staff load the cable cars with fresh produce local to the area and neighbouring Italy, ready for guests at lunchtime, ensuring that every bite is fresh and handled with utmost care and consideration. Once this is done, the chefs prepare each course as they're ordered, you can taste the quality, and the colours of each course are simply vibrant. At the end of each day, any food leftover is given to local animals in keeping with sustainability initiatives the establishment holds dear in its heart.
La Cucúcina is otherworldly, and although there is some raving happening nearby on the veranda, it has a very opulent and sophisticated vibe where you cannot hear a peep of the party next door.
Decor
Inspired by the Italian artists of the renaissance period, La Cucúcina pays homage to the beauty of Italy, Leonardo da Vinci and his peers. Waiters wear the overalls once worn by those artists with paint detailing on the torso as you glide to your table surrounded by replica statues of the period, including a famous Michelangelo.
Designed by founder ​​Luc Reversad and architectural firm Backman, it is a grand affair at the Italian restaurant, which boasts floor-to-ceiling windows to views of the Alps and Mont Blanc. An elegant timber center table surrounds hand-blown chandeliers made with Venetian Murano glass. Although homage is paid to the flamboyant era, modern details flitter across each room to view the mezzanine-style veranda.
Recommendations
It can be challenging to decide what options to try when perusing the vast menu, so arrive on an empty stomach to avoid being disappointed.
Offering a large selection of both modern and rustic transalpine cuisine with an Italian team, each dish is designed to ignite excitement (playing to its art theme) directly on your plate.
Start with the Rosemary Focaccia and Pane Carasau made moments before it is placed on your table from the neighbouring wood-fire oven in the main restaurant. Fresh rosemary arrives smoking, and the flavours are intense. La Cucúcina's menu, led by Executive Chef Franck Mischler and Head Chef Christoff Lancelot is a sensory explosion. They are masters in producing faultness cuisine, and also scientists. To perfect the bread and pasta dishes (allowing for the best consistency), the secret dough recipe is made right before your order due to high altitudes speeding up the proofing of the dough.
For entrées the Burrata Cremosa is a must! The dish is exceedingly rich and creamy; the truffle is vibrant in colour with an intense nuttiness to balance the flavours.
The Fried Artichoke with agliata sauce is perfect for any palette and those a little more adventurous. The violet leaves are simply eye-catching; this herbaceous dish made the 'Roman way' is a treat and incredibly moorish.
Craving a little meat and incredibly dubious veal, I wanted to try something a little different. Veal isn't something I relish, so when informed it was the star of the show, I had to see what I could have been missing out on. True to form, I wasn't disappointed. The veal, bathed in a tuna cream with an acidic punch, is surrounded by Sicilian capers and Taggiasche olives. The tenderness of the cut works well with the lemony yet salty capers, and the creamy tuna sauce adds depth to the dish.
As a truffle lover, there is no surprise that I opted for more of the Tuberaceae family! The pièce de résistance has to be the Rigatoni cacio e pepe, an utter delight, rich in flavour but not too rich with a lovely sharpness from the black pepper. The dish was calming to the palette and served once again with lashings of fresh, vibrant black truffle. It will be difficult for anyone to leave evidence on the plate.
Vibe
It's a mix of relaxed and unpretentious yet has an air of sophistication.
What La Cucúcina appears to get right is providing fantastic food, great views, and art without encroaching on its main clientele - the skiers.
Their in-house experts have carefully curated every fine detail, from the design to food to even the atmosphere, with Luc's original ideas at heart. It is a welcoming environment and fantastic for those new to the piste. Even the menu has a map where you can identify each mountain just by pointing it at a 90° angle. Within the menu, the real personality of La Folie Douce comes out; expect to stumble across reworks of famous fine art, including a stunning Mona Lisa with some 21st Century nails!
Dessert
As you devour your carefully crafted and utterly delicious profiterole dessert by pastry chef Axelle Ruz, do not be alarmed by the aerial dancer's performance of classic Frank Sinatra song, New York, New York! The perfect end to a perfect meal!
La Cucùcina
La Folie Douce Val d'Isère
Address: Télécabine de, 73150 Val-d'Isère, France
Phone: +33 4 79 06 07 17
A time to chill - Valmont Spa
Working in fashion and beauty for (*cough) over a decade, I'm somewhat used to many spa days and treatments, but I do have a few favourites, one of which is Valmont. So when I heard that Valmont had a spa in town, I had to check it out.
The Swiss cellular cosmetics giant is very, very, very expensive, but the results are always fantastic. If, like me, you use Valmont products sparingly, you will understand the amount of science and care that the pioneer brand places into each product over the past 30 years.
I'm a huge fan of Valmont's DetO2x mask, their eye patches, and infatuated with their Eau de Parfum (shout out to STORIE VENEZIANE - ROSSO I), so a treatment in the Alps was an exciting feat.
By this point, 24 hours before returning to a polluted and most likely chilly London (where everyone's miserable), a facial was just what the doctor ordered.
Rather than picking an option from the menu my aesthetician prescribes a bespoke treatment to target my individual concerns. Spa manager Elisa Chambrelan saw the stress in my very eyes from my falls on the piste (and most likely the hyperpigmentation and sun damage from Après all day) so customised my facial, ensuring it was adapted to my skin concerns.
The treatment room area isn't huge but intimate, and the welcome touch ensures one leaves their ski baggage behind. Starting with a double cleanse to remove impurities and debris, Elisa began to help settle my puffiness using Valmont's decongestant Prime Contour alongside their Prime Renewing Pack.
To tackle the hyperpigmentation darkened by the sun, Elisa used the Ritual Éclat range. Gently massaging the Clarifying Surge, my puffiness was reduced. This is a great shout for those with congestion and aims to diminish dark spots. My 60-minute facial ends with a relaxing yet collagen-boosting facial gymnastics massage to awaken the muscles and stimulate the product below the dermis.
I fell asleep, and you can't blame me, as this would most likely be my most relaxing facial yet (and I've had a few in my time).
The perfect end to a trip and a must-visit to get a boost before kick-starting back into city life! Please see the details below to obtain more information on the perfect facial.
Goji Spa by Valmont
Le K2 Chogori, Hôtel de Luxe Val d'Isère
Address: 143 Av. du Prariond, 73150 Val-d'Isère, France
Phone: +33 4 79 04 20 20
Words & photography by Jheanelle Feanny