Vingt Sept
The Ultimate Lisbon Travel Guide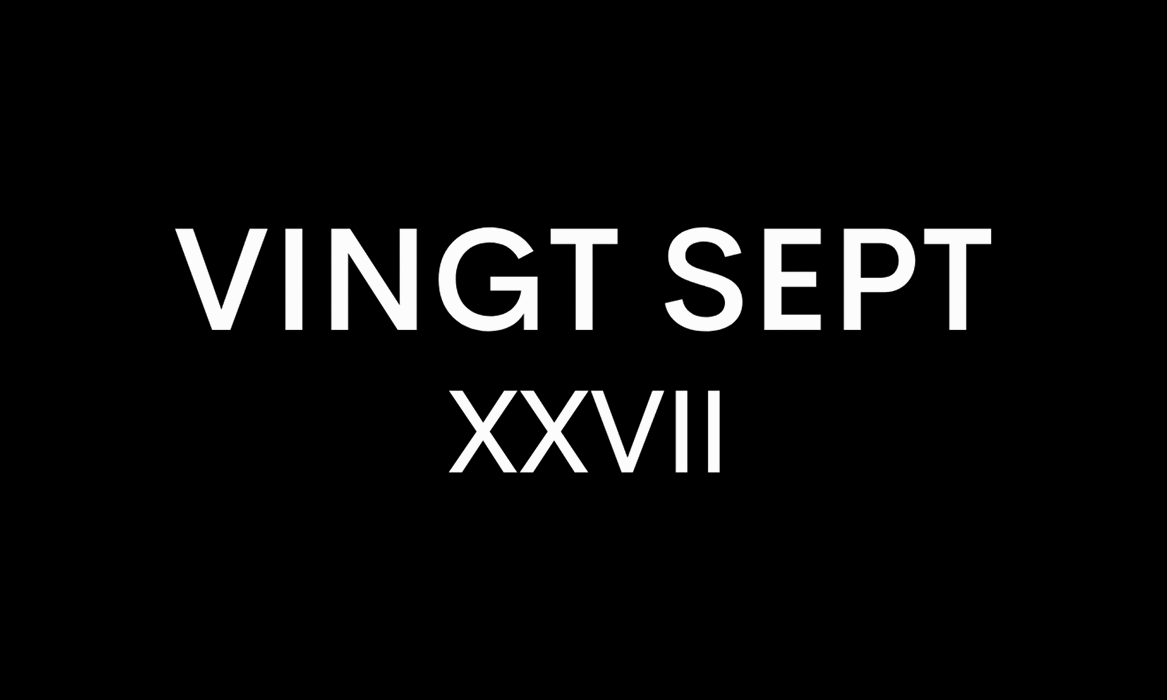 Travel & Food
If you're the kind of holidaymaker who wants to have both the busy and fun city break, but needs home comforts to recharge, then you need The Lumiares. Centrally located amongst the best and busiest bars, within walking distance of all the cocktails you can sip, and with no fear of going hungry with eateries on every street.
Set up as a home away from home, each room includes a kitchenette to relieve the stress of always wondering where to head for the next meal. The suites are relaxing, with comfortable sofas and curated selection of local artworks, ceramics, and handcrafts, much of which is also purchasable in case you can't bear to leave them when you leave!
With a range of fifty rooms, including three penthouses, Vingt Sept stayed in a one-bedroom suite with views across the city centre, watching over the steep incline as the Ascensor da Glória funicular carried weary walkers up and down.
Ascensor da Glória from Lumiares hotel
At the top and bottom of Lumiares there are food offerings. At the ground floor you can find the hotel's pizza restaurant and (dog-friendly) Rebel Café, which has pastries and cakes supplied from the top floor restaurant and breakfast room. Up here, each morning, you will get unrivalled views across all aspects of the city as you sip on orange juice and tuck into your eggs – you can pop back later in the day for a glass of wine with the sunset. Not relaxed enough yet? We enjoyed the complementary sauna, housed in a basement spa where you can also book from a menu of massages.
Ph: Lumiares hotel
Lumiares is located on the popular and trendy Rua Dom Pedro V and a walk along it, cutting through the heart of Principe Real, will lead you to a million bars, cafes, restaurants and plethora of trendy boutiques and fashion outlets. We popped into the Benamôr 1925 shop, the oldest Portuguese beauty brand, with baby pink shelves loaded with lotions, creams, and treatments – we loved the Nata products, which smelt so like a pastel de nata it was hard not to lick the hand cream right off.
The Lumiares Hotel & Spa
R. do Diário de Notícias 142, 1200-146 Lisboa, Portugal
For more information visit Lumiares
Just a few doors away is Embaixada, formerly a palatial home, but now with all its rooms turned over to fashion, furniture, beauty, ceramics, and design. As you weave in and out of stately rooms, up the grand painted staircases, you'll discover some of Lisbon's hottest young designers, all with windows opening onto cityscape views. When you're shopped out, head to the ground floor for the gin bar.
However beautiful you find the tiled architecture and street buzz, sometimes you need to get in touch with something more natural. Tucked behind Embaixada is the city's Botanical Gardens – when we visited there was hardly anyone else around, so it was a perfect place to recharge our batteries.
Ph: Benamor 1925 shop, Botanical gardens, Embaixada
You are spoilt for choice with food options, but we plumped for BouBou's where we sat in the sun-draped courtyard for a constantly changing tasting menu which served course after course of experimental and subtle "global-journey" inspired cuisine; sommelier Joaquim Queiroz pairing the food with wine expertly. Mussels in aioli, oysters with bitter garlic, sweet potato ceviche, aubergine in miso sauce, and goats cheese ice cream with tomato salsa. Delicious. But it was the incredible bittersweetness of the shitake ice cream as a perfect palette cleanser which we need again.
Embaixada
Praça do Príncipe Real 26, 1250-184 Lisboa, Portugal
For more information visit Embaixada
BouBou's was set up by couple Alexis and Agnes Bourrat, the pair working with chef and Alexis' younger sister, Louise, on the menu. With an all-female kitchen and clear playful experimentalism to her work, go now while her career kicks off.
Boubou's
After, you could head back to Lumiares' comfort, but one stop-off is worth it. Pavilhão Chinês is a cocktail bar which you could miss if it wasn't for the two Chinese lanterns outside. Press the bell to be let into five rooms jam-packed with art, curios, and cabinets full of kitsch. Even the ceiling is covered. Expert mixologists concoct your perfect drink from a huge, enticing menu as you soak in the atmosphere.
BouBou's
R. Monte Olivete 32A, 1200-280 Lisboa, Portugal
For more information visit BouBou's
THE FASHIONABLE TRIP
If you want fashion, this is your Lisbon base, with all the designer shops you need within just a few steps of your hotel bedroom door, the steps up from the pavement into the Valverde will take you into the luxe of another time.
Valverde hotel interior
Inside are dark atmospheric corridors, hung with stylish décor, from which warm, plush lounges beckon, inviting you to sit back and flick through designer books under an antique lamp.
The only reason you may be persuaded to leave the boutique atmosphere of inside is the tree-filled courtyard. Despite being just off the busy Avenida da Liberdade, you'll feel distant from the city with palms and leaves above as you sit next to the rouge-tiled pool. There's also a swimming pool, and with tables across the courtyard you'll be able to get the refreshments you need.
The hotel has just re-opened after an extensive expansion into a neighbouring building, with plans to perhaps expand even further. This all means there's a wealth of rooms of different sizes across their two buildings, and all kinds of spaces in between – from a wood-panelled gym to a kids' cinema space – to find as you explore the building.
Valverde hotel interior
All around you are the Lisbon homes of luxury. Gucci, Louis Vuitton, Miu Miu, Boss, Rosa & Teixeira, Prada, Armani, and more and more, just steps away from your room. Design of all kinds saturates the area, just a short walk away we also visited Made in Situ, part showroom, part refined gallery space of French furniture and product designer Noé Duchaufour-Lawrance, one of numerous niche and high-quality design stores you'll find on your wanders.
Valverde Hotel - Relais & Chateaux
Av. da Liberdade 164, 1250-146 Lisboa, Portugal
For more information visit Valverde
But being central also means you're in a prime location to get anywhere in the city. We took a taxi to the Time Out Market, packing half the Mercado da Ribeira with stools selling local delicacies from seafood to cakes, and wines to craft ales. We had Terra do Bacalhau cod delights, mixed with olives and peppers, drinking a local stout beer.
Ph: Time Out Market
From here, you could take the historic cable car, Elevador da Bica, up the steep and scenic incline before spending the afternoon meandering down the Belle Epoque era cobbled streets, popping into boutiques, stores like the Sapato Verde eco shop, and galleries like Boa Lab.
By the time you reach the bottom, you'll be hungry. Which is good, because you'll also have reached Cavalariça Lisbon, led by chef Bruno Caseiro, and one of the best restaurants in the city. Certainly, the best with a unicorn.
Ph: Cavalvariça
The unicorn looks down on you, just one detail of an immaculately designed space of marble tables, pink servery, and deep blue kitchen. The food is no less impressive, starting with their sourdough, crisp and brioche cover with olive tapenade and silky butter. Then enjoy the 90-day aged beef tartar, melt-in-the-mouth pork with flame singed skin, or lemony light hake souffle. And in a city of excellent oysters, those served here in a passion fruit sauce were by far the best.
Even plates which sound simple, like roasted turnip, had a sweet garlic and aniseed hit, while lettuce and pistachio was a smooth accompaniment. Save room for dessert, the sorbets are unlike any you'll have had – a sharp granita-like cherry, creamy chocolate, and the nuttiness of malt cream worked together in dangerously good ways.
THE ROMANTIC TRIP
Torel Palace is the place to stay for a romantic break, where you will wake up with views stretching across the city, becoming even more romantic as the simmering sunset dapples the Palace's palm trees viewed with a wine from your balcony.
Torel Palace
Initially just formed of a proud pink building, the Palace, the hotel has since grown to take on the neighbouring blue guesthouse building – which Vingt Sept stayed in – then a further adjoining white building which the owners have transformed into luxury self-catering apartments. All these blocks sit around a series of patios and a swimming pool, each with unique vistas and a mix of places to relax, meet, or even party – the owners are planning to introduce more music events and DJs in summer evenings.
The "resort in the city" hasn't stopped growing yet, having recently taken on a new adjacent property and its vertiginous tower, work is underway for new rooms, a garden, and second swimming pool.
Torel Palace
Torel Palace Lisbon
R. Câmara Pestana 23, 1150-082 Lisboa, Portugal
For more information visit Torel Palace
You can continue your regal living even when you leave the Palace. You are perfectly located to take meandering walks through the labyrinthine streets surrounding Castelo de S. Jorge – or better still take one of the historic yellow trams up through the Alfama district, then find your own route down, getting lost but discovering wine bars and views on your way home to the Palace. If your walk takes you around to the east side of the hill, you can make your way to Palácio Sinel de Cordes, HQ for the Lisbon Architecture Triennale, who mount regular exhibitions, talks, and events.
Lisbon street scenes
Despite feeling separate and above the city in Torel Palace, you are only a short walk (or shorter cab ride) to the city centre. After relaxing by the pool, Vingt Sept walked in and had a nosey around both high street and more boutique fashion outlets. But shopping can make you hungry, so it's lucky Boa Bao is not too far away, offering just the satisfying bite you need to get the energy for round two.
Boa Bao
The food, as you'd expect, is pan-Asian but made with local ingredients – the sea bass bao was soft with a BBQ crunch, while staples like a Balinese shrimp Rendang, a warm chilli paste coating runner beans, energise. The Monkey Cup cocktail has a bite you'll still feel once back in the shops!
Boa-Bao
Largo Rafael Bordalo Pinheiro 30, 1200-369 Lisboa, Portugal
Fore more information visit Boa-Bao
The centre of the city has all the high street brands you'd expect but turn the corner and you'll find a hidden or historic gem. The art deco frontage immediately caught our eye, but once we entered the Claus Porto's shop, we were in a kind of heaven-sent.
Claus Porto
After a few more hours, shopped out, we needed our evening food, and in an unassuming pedestrianised side street, found Ofício where we ate until we could eat no more. With a varied sharing menu to suit those wanting pre-drink snacks or a fuller dinner, the inside of the restaurant is a cave-like, intimate space, though we chose outside to enjoy the early- evening light.
A crunchy pork skin crisp was a traditional way to kick off the feast, and a perfect side to the creamy fermented and spiced crab. Local tomatoes served in a lettuce sauce with coriander oil over ice, Bloody Mary oysters, cured fish with chipotle and almond, beef tartar and bone marrow, and still the food kept coming. An almond tart, a twist on the chef's grandmother's recipe, rich with an "overbaked" texture, was a perfect ending.
Ph: Ofício interior and dishes
Having shared your way through such culinary delights, you won't want to walk far. As luck would have it, you don't need to – just two streets away you will find the most intimate and cosy cocktail bar in the whole city.
Ofício
R. Nova da Trindade 11k, 1200-301 Lisboa, Portugal
For more information visit Ofício
Hidden behind a curtain, Toca da Raposa – The Fox's Den, in English – is a cave of plush, fitted velvet furniture arranged around a hulk of marble where owner and mixologist, Constança Cordeiro, holds forth with conversation and cocktails. Her nephew drew the animals on the coasters and in the menu, giving their names to the drinks on offer, while she goes to the city's woods weekly to forage the floral decorations in each cup. The drinks themselves are boozy, delightful, complex encounters, which not only look fantastic but give you a warm hug as a perfect close to the evening.
Toca da Raposa
Toca da Raposa
R. da Condessa 45, 1200-302 Lisboa, Portugal
For more information visit Toca da Raposa
THE DECADENT TRIP
Lisbon isn't the largest city, and wherever you stay you won't be far from the rich variety of food, shops, drinks, and culture. But if you want to stay bang in the middle of it all then the Bairro Alto is the place. As soon as you step outside the hotel you know you're in a capital city – the rush of crowds right where business, tourist, commercial and cultural meet, all on your doorstep.
Barrio Alto
Inside, however, it's an entirely different affair. Generous public lounges and the hotel's own patisserie café cover the ground floor with a sumptuous, updated mid-century style. Higher up a well-appointed gym, steam room and sauna help you sweat the city out. Then a tidy and fully mod-conned bedroom provides private sanctuary – modern photography hung on our wall, a design mag sat on the writing table waiting to be flicked through, and bluetooth speakers immediately connected. The bathroom had Le Labo toiletries. This place knows.
All across Lisbon you will come across pavement kiosks, acting as social anchors to the main streets and excellent spots for people watching and congregating. After randomly wandering and discovering little design boutiques – including the charming Flores Textile Studio – the Praça das Flores kiosk in Jardim Fialho de Almeida called out our names. With a simple negroni, we watched the world go by – kids playing, post-work drinks, friends gathering.
Bairro Alto Hotel
Praça Luís de Camões 2, 1200-243 Lisboa, Portugal
For more information visit Bairro Alto
Oyster and Margarita
Deciding we were ready for something stronger, a short walk and we were sat outside Oyster + Margarita, a tiny corner bar with a name which pretty much sums up the offer – a variety of margaritas (try the fresh berries one!) and a simple offer of oysters with your choice of sauces, from tropical to bittersweet. Grab an iced plate with a variety selection as a sharp palette cleanser for your next stop.
Foxtrot
If those margaritas wetted your cocktail appetite, go next to Foxtrot. Opened in 1978, but with an interior summoning a 1920s vibe, you'll want to stay until closing time sipping classic and experimental cocktails from an extensive menu. If you're spoilt for choice, barman Hugo, who has been running Foxtrot since 2003 when he ushered in a radical, experimental direction, will help guide you to a perfect infusion.
The views at Bahr Bairro Alto
But, by being based at the Bairro Alto Hotel, you have an alternative evening for something more refined. At the top of the hotel, with reaching views towards the San Fran-esque 25th April Bridge, is the hotel's restaurant and bar, BAHR and Terrace.
Start your evening on the terrace as the setting sun flickers off tiled façades with a glass of sweet port or negroni – a drink in which they specialise with no fewer than eight unique recipes as well as a classic. We had one with Japanese sours, then one with bourbon – a Boulevardier. While sipping we nibbled on "cigars" made of garlic, coriander, and seaweed – refreshing and light sushi-like bites.
Just as golden hour hit its prime, we headed to the restaurant upstairs for dinner. The dining space is a smart and stylish affair with hardwood floor and mid-century furniture, mood lighting making the space. Celebrated chef Nuno Mendes, formerly of London's Chiltern Firehouse, uses Japanese culinary techniques throughout the regularly changing high- quality menu, relying on seasonal and local ingredients. Nearly as impressive as the sunset view is the vantage inside, watching over the open-plan kitchen as chefs work away.
Bahr Bairro Alto
The simplicity of squid with runner beans and turnip tops with a warming, grilled sear lingered in the mouth, as did medium pork in chimichurri sauce and grilled hispi cabbage with buckwheat. We had no more room, but just had to squeeze in the chocolate sweet potato crisps with vinegar ice cream (yeah, we know what you're thinking, but do try it), and a dreamy cloud-like Portuguese meringue with crunchy milk shell and cured egg yolk. Stuffed, we could barely move – but when the hotel room is just a few floors down, that's not a problem!
BAHR & Terrace
Praça Luís de Camões nº 2, 1200-243 Lisboa, Portugal
For more information visit BAHR & Terrace
A TRIP OUT OF THE CITY
Lisbon is beautiful. But it's compact and busy, so you may want to break your holiday with a step away – whether outside the city centre or a night by the coast.
LxFactory is a huge concrete shell newly given over to culture, fashion, and design. Around the cobbled streets, graffiti, and industrial ruin lust you'll find a huge bookshop, countless design outlets, and rails upon rails of fashion. Lisbon's answer to London's Truman Brewery, it also hosts festivals and events.
Just further out is Belém, home to the 18th century palace, now residence of the Portuguese President, and older monastery, facing the geometric park at the centre of the town. Start off by heading straight to Pastéis de Belém, home of the best custard tarts in the city, serving since 1837. There might be a queue, but don't hesitate, the wait is worth it...
MAAT
You can take your tarts down to the waterfront, where two of the city's best museums can be found. The Museu Coleção Berardo holds the city's modern and contemporary collection, with up to five exhibitions on at any one time, while the Museu de Arte, Arquitetura e Tecnologia – commonly known as MAAT – is inside a massive red brick power station and regularly-Instagrammed curvaceous white extension by UK Architect, Amanda Levete. It puts on exhibitions by contemporary and conceptual artists and designers, and how creativity intersects with technology.
Cascais
For an excellent beach, you don't need to go far. Vingt Sept took a short train trip along the Tagus River to the busy seaside town of Cascais. If you're culturally minded, this place is for you, with art lovers from around the world already making a pilgrimage here for British-Portuguese artist Paula Rego's museum, a vast collection of her works contained within the clay-red monolithic shell designed by Pritzker-winning architect Eduardo Souto de Moura.
Elsewhere, the town bursts with design and culture, not least in the Cidadela Art District, an historic fort repurposed as hotel, bookshop, galleries, and designer craft stores. But culture is only one reason to end up in Cascais; with two sandy beaches right in the town centre, it's a perfect couple of days to include in your Lisbon break. We stayed at The Pergola, an historic town house and boutique hotel, just minutes' walk from the beaches and bustling pedestrianised, food-filled streets.
Words Will Jennings
Photography Carlo Zambon